A few weeks ago we asked our dear readers if they were interested in coming up with some card art for the Mooltipass project. We received more than a dozen of them and a few days ago the HaD project Mooltipass followers/Mooltipas Google group recipients voted for their favorite ones.
Today we'll present you the three popular ones and ask you to pick your favorite, so please follow us after the break…
[Bjorn] is a very active and pragmatic Google group participant, so this is the design he sent us. Given that exactly 1.2cm of the card is sticking out of the Mooltipass case, you'd only be seeing the "Mooltipass key card" text once the smart card is inserted.
[Luke] is someone that does things. The design shown above was quite popular in our previous poll.
Our German contributor [Robert] sent us a more sober black and white design which does look quite nice in our opinion.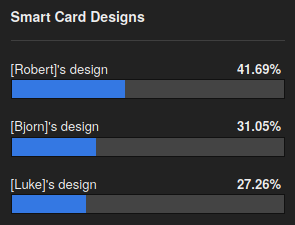 So what do you guys think? You may vote for your favorite design and/or submit your comments below.
[Article picture attribute: angelitomercenario]