We feature hacker/makerspaces of all kinds here at Hackaday, and these days, encountering a hackerspace at a college or university isn't uncommon. School-backed spaces are often mildly impressive, too, with plenty of room and better-than-most equipment.
Georgia Tech's Invention Studio, however, is different. This space is nothing short of staggering.
Once you've walked past the wall of commercial-grade 3D printers lining the entryway, you'll find yourself in the Electro-lounge, a general meeting and hangout room with some basic tools. Each room beyond has a specific purpose, and is packed full of equipment. We aren't just going on a tour, though, because this is Adventures in Hackerspacing. Click through the break for a behind-the-scenes look at how this hackerspace provides a top-rate experience for its makers and how Invention Studio thrives with an entirely student-run leadership.
This wasn't my first trip to Invention Studio, but it was the first where I had time to sit and chat at length with some of the students and with my friend [Chad Ramey]: Computer Science major, fusion reactor operator, Invention Studio president, and all-around nice guy.
On the table in the Electro-lounge is a 3D printer model that I don't recognize. [Chad] explains that manufacturers will sometimes send Invention Studio their prototypes because the students at Tech will drive them until the steppers fall off. There are few places that can provide that kind of continuous use and supply meaningful, technical feedback: the space accommodates hundreds of students during the school year and 3D printers are perhaps the most popular piece of equipment.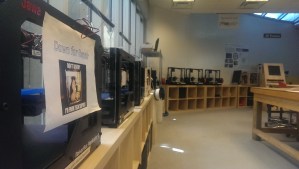 I follow [Chad] further into the depths of Invention Studio and into a room dedicated to consumer 3D printers, where printing ABS or PLA is free of cost to the student. [Chad] affectionately refers to this room as the Wild West of the Invention Studio, where students with good intentions but a lack of experience often break things. That's okay, though. Tech has enough printers that anything short of a natural disaster wouldn't inhibit their production capabilities, and allowing the students to fail helps foster a community of hackers who work to resurrect the devices together, leaving everyone with a better understanding of the printers.
Although Invention Studio has some faculty oversight (grant writing and fundraising, ensuring safety standards) the space is otherwise entirely student-run. The system centers around ULI's, University Lab Instructors, who volunteer their time to supervise the various sections of the space. Anyone associated with the university has access to Invention Studio during regular hours, and at least 3 ULI's are on duty during this time. Each wears an identifying armband.
Prospective ULI's must first attend an introductory meeting to learn basic procedures and rules. after which they complete a competency check via an online document. ULI's must volunteer a minimum of 3 hours per week. In return, however, they receive the keys to the kingdom and can use the facilities any time. Not literal keys, though; this is Georgia Tech. Access control is through NFC used by the Student IDs, but it's a proprietary NFC standard rather than the typical RFID, which limits how the students can use the devices. For now, access to any given room happens through faculty request.
Some ULI's naturally gravitate toward a particular interest and become "masters" of those areas—or, in the case of 3D printing, "masochists." For these students, making is a consuming part of their lives, and they spend a lot of time around the shop, helping maintain their given area and provide some more advanced guidance.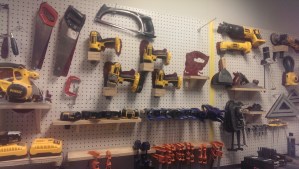 [Chad] leads me out of the 3D printer room and through the rest of the Studio. We pass through the wood shop, which has a large CNC router and a slew of tools carefully organized along the wall—very cleverly, I should say. Each tool has its own piece of acrylic cut into the form of the tool's silhouette and mounted on the wall behind it, to simplify the re-shelving process. Back near the entrance we encounter rows of sticker-laden lockers: personal storage is yet another ULI perk.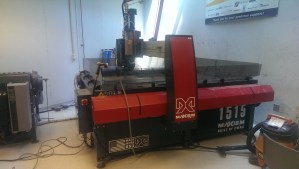 A massive waterjet shares a room with a couple of laser cutters and a small kiln. Students don't enjoy the same Wild-West-Freedom to tinker with these larger, more expensive devices as they would the consumer-grade 3D printers, and any malfunctions—although industrial equipment is less likely to break down than the RepRaps—are handled through the manufacturer. That doesn't mean students are discouraged from using the equipment. Countless components are carved out of all types of material for everything from business cards to electric vehicles.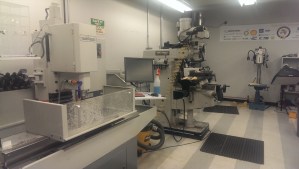 [Chad] has to turn the lights on in the last room he shows me. Inside is a fabricator's dream space, packed wall-to-wall with CNC mills and CNC lathes. The room is unoccupied, however, and although Invention Studio isn't busy at the moment, these machines don't see as much use as I expected. 3D printing, as [Chad] explains, has stolen much of the attention away from other manufacturing techniques, but the occasional ambitious student will resist the urge to melt plastic and fire up one of these impressive machines instead.
If you're looking for a hacker/maker-friendly college, Georgia Tech is hard to beat. Even during the slower hours of my visit I encountered at least five students actively tinkering away at a variety of projects. As a space, Invention Studio is one of the best I've seen: self-sustaining, student-run, welcoming and bustling with people who just love to make.