Every week Hackaday.io features an AMA of sorts. This is the Hack Chat, a chatroom where we sit down with the best in the business to talk about manufacturing techniques, engineering, and how to build the best hardware around. Over the last few months, we've hosted a few hardware celebrities, from [Sprite_TM] talking about the ESP32, [Lady Ada] and MicroPython, [Roger Thornton] of Raspberry Pi discussing how to build everyone's favorite Linux computer, [Samy Kamkar] talking about reverse engineering, and heard [bunnie's] take on making and breaking hardware.
Now we're looking for new co-hosts to lead a discussion and be the expert in the room. If you have the skills, we want to hear from you.
We're looking for experts to lead a discussion on what they're doing. If you have a new hardware product and want to share the story of taking it to production while getting some feedback from the Hackaday community, this is the place to do it. We're looking for a wide range of people who will allow us to pick their brains. If you've ever designed a 16-layer PCB, we want to know how (and why) you did it. If you're into building robotics, we want to hear from you. If you're an embedded systems wizard, this is your time to shine.
If you want to get in on this, send us an email. We're doing one Hack Chat a week, every Friday, sometime around noon, Pacific time. This is a great opportunity for you to share what you know with one of the best hardware communities on the Internet. It's also great practice if you're thinking about presenting at the Hackaday SuperConference in November.
This Week: How do Magnets Work Anyway?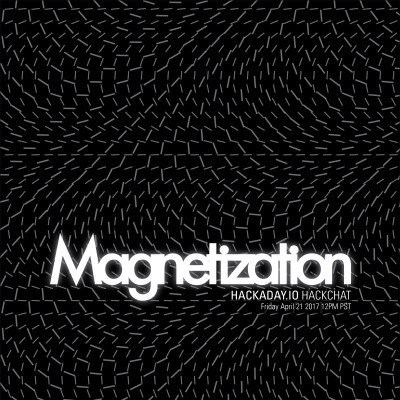 Do you know how magnets work? Of course you don't, nobody does. But one of the people with the deepest knowledge on the topic is Jeremy Chan who is a Prototype Engineer at Nano Magnetics Ltd. This Friday at noon PST Jeremy leads a Hack Chat on magnetism.
What is there to talk about? Jeremy will cover how magnets are manufactured and magnetized. He'll cover the different grades of magnets, and the different magnetic sensing mechanisms. He'll also go into some of the most interesting magnetic phenomenon. How often do you get to hang out with a magnet expert? See you this Friday!