Starting up a new hackerspace from the ground up is a daunting task. Before you even think about the fun stuff like tools and a space, you've got a ton of social engineering to do. Finding like-minded people with the drive and passion for seeing the project through is a major stumbling block where many projects falter. If you get past that, then figuring out a corporate structure and getting funds together to start building something can be difficult, as can local permits and the endless red tape that always seems to accompany anything seen as new or innovative.
But finally the magic day comes for your group to open the doors on the new hackerspace, perhaps with an open house or some event to bring the community in and maybe rustle up some paying members. It should be a happy occasion, but for a new hackerspace near Houston, the grand opening celebration was thwarted when thieves broke into the space and cleaned out all their tools days before it opened.
Humble Beginnings
This has to be absolutely heartbreaking to The Humble Makers of Humble, Texas. One of the founders, [Jeremy Southard], shared his tale of woe with Hackaday on the tip line. After months of planning and preparations, the Humble Makers' new space in an old antiques shop was ready to open. Tools had been purchased or donated, including a 40 W laser cutter and a bunch of cordless power tools. On Wednesday, [Jeremy] came to the space to find that the door had been forced and almost everything had been taken. Curiously, the thieves left behind the 3D printers, but everything else was gone.
The group amounts the losses at more than $5000, a steep price to pay for a space that's just getting started. Despite that, they vow to open next week with what they have, which we admire. They've started a GoFundMe campaign, and we'd encourage anyone to pitch in and help these guys out. But what I'd like to go over is how this counts as a Fail of the Week, and what hackerspace members and private shop owners can learn about protecting their own stuff from walking off.
What Went Wrong
It's easy to Monday morning quarterback something like this and point out what they did wrong, but let's start by looking at what they did right. From the look of the building they chose, there's nothing immediately obvious to raise suspicion. It doesn't seem to be located in a particular crime-ridden neighborhood. But looks can be deceiving, and thinking like a criminal is often the best way to avoid becoming a victim.
I learned long ago — the hard way — that criminals like to do their business unobserved as much as possible, and to leave their options open for getting away quickly. In that regard, this building is a perfect target — easy access from the road, but not easily observable. The road out front is a freeway, with drivers not likely to notice a quick crowbar job on the front door. Once inside, the thieves had all the time in the world to work, plus a huge garage door in back away from prying eyes. They could have pulled a van up, loaded everything under cover, and booked out of there in a hurry along any of the residential roads behind the building. If they had been found out somehow, the woods offered the chance to escape on foot. As great as the building looked, it really was the perfect place to burglarize.
But what about a security system? In his note to us, [Jeremy] explained that while a full security with remote monitoring was not yet installed in the space, they did take measures to protect their assets. The group had installed IP cameras to watch the parking lot and the interior, recording events to the cloud. Sadly, the thieves were able to find a blind spot in the parking lot camera's coverage that allowed them to cut power to it. That gave them free rein to the front door, and once inside they killed the router to prevent the other camera from sending alerts or saving any images.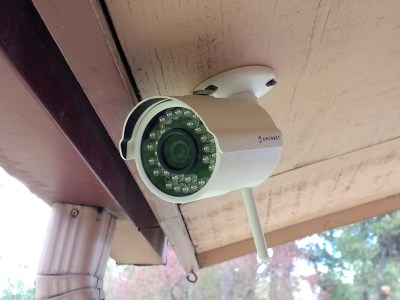 The lesson here is that security assets are only assets if they're connected. Cheap, rugged IP cameras are a great addition to a security plan, but if they can be defeated with a pair of wire cutters, you haven't improved your security posture much. It pays to look at your cameras and find ways to route wires to prevent tampering. And it doesn't have to be a hardened enclosure — just routing wires inside a soffit like I did for the IP camera on my house (pictured right) might be enough. Of course, knocking the camera down with a baseball bat or simply unscrewing the WiFi antenna would defeat it. Maybe I need to look into that.
Is Your Space Secure?
If I had one criticism for The Humble Makers, it would be not looking for a commercial alarm system right off the bat. I know it's hard to prioritize something like that ahead of getting tools and a space together — after all, that's what will drive membership, not a panel with blinky lights on the wall near the door. But the alarm will protect the things that matter to the space, and in the end the expense of installing a system and having it monitored will seem like small change compared to the potential to lose everything.
Whether you have an alarm system or not, at a bare minimum you owe it to your members to do some kind of security audit. Walk around, wiggle door knobs, try to force windows open — look for weak points. A great idea is to get another set of eyes on your place, preferably someone who is not a member so there's less chance of bias. It'd be even better if your local law enforcement agency could do a walk through — nothing beats having someone who has actually investigated property crimes giving you an honest assessment of what your weak spots are.
It's a sad state of affairs when we have to spend time and resources to prevent people from being awful, but it's a fact of life. The loss suffered by this group is tough to take, but maybe looking at what they did right and what went wrong will help other spaces protect themselves. Cold comfort to The Humble Makers, perhaps, but it's better than nothing.