A dive scooter, or a submersible ducted fan used by divers, is not a new invention. They've been around for years, used by everyone from the villain of the week on Miami Vice to professional divers. Now that high-capacity Lipos, 3D printers, and powerful brushless motors are cheap, it was only a matter of time before someone built a DIY dive scooter. [Peter Sripol] is the man, and he also built a dive scooter, underwater pistol thing.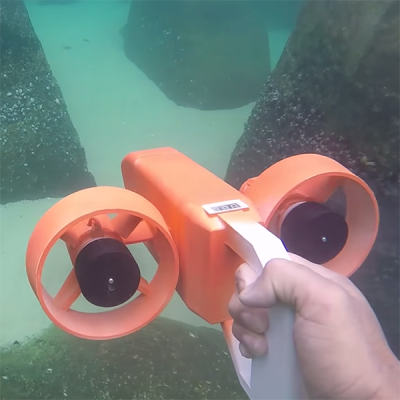 [Peter]'s dive scooter is almost entirely 3D printed. That includes the ducted fans/thrusters. The electronics are what you would expect from a grab bag from Hobby King and include two 2530 sized 400Kv motors from Avroto. These are massive motors made for massive quadcopters but they do seem to work just as well pulling a human underwater.
While this dive scooter was a marginal success, there were a few problems [Peter] had to work through. These were the lowest pitch propellers [Peter] has ever printed. To be fair, most of the props [Peter] has printed were used in air, not a fluid that's hundreds of times denser. The electronics held up very well, considering the bath in salt water.
You can check out [Peter]'s video build and demo below.