Designing a system for communication over RF is a dark art. It's an obscure domain filled with photonmancy, wires going every which way, and imaginary numbers. RF is reserved entirely for wizards. The guy who simplified Maxwell's equations into the form we now use went literally insane and replaced all the furniture in his house with granite blocks. This is weird stuff, man.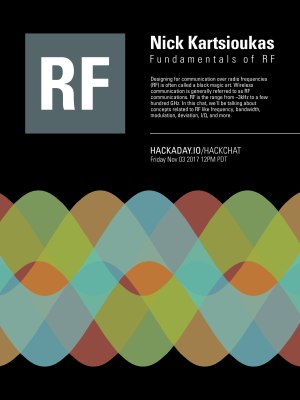 For this week's Hack Chat, we're talking about RF. Everything from the capabilities of different bands, how bandwidth is incorporated into designs, different modulation schemes, RF concepts, I/Q, Nyquist, and other deep-dive topics that elucidate the mysteries of the universe and include all the math.
If you've ever wondered how bits get turned into radio waves, what all the PSKs and SSBs are all about, and how bandwidth and range of a radio system play into what frequencies are used, this is the Hack Chat for you.
Our guest for this week's Hack Chat is [Nick Kartsioukas]. He's an infosec engineer, an amateur radio operator with an Extra license, hardware hacker, plays around with radio and antenna projects, SDR, and he's an RC pilot. There's a lot of RF swimming around [Nick], and he's got the skills to pay the bills.
This is a community Hack Chat, and we're taking questions from the community. If you have a question or something you'd like to discuss, add it to the sheet.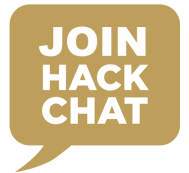 Our Hack Chats are live community events on the Hackaday.io Hack Chat group messaging. This Hack Chat is going down noon, PDT, Friday, November 3rd. Do you wish every time zone was UTC? Yeah, it's a great idea, but when you really think about it, it would be terrible. Here's a time zone converter!
Click that speech bubble to the left, and you'll be taken directly to the Hack Chat group on Hackaday.io.
You don't have to wait until Friday; join whenever you want and you can see what the community is talking about.
We're also looking for new Hack Chat hosts! If you've built something cool, you're working on an interesting project, or you're about to introduce a really cool product, hit us up! Email our wonderful community managers, and we'll see if we can slot you in.