Defense Distributed and founder [Cody Wilson] have released Ghost Gunner. Defense Distributed entered the public eye a couple of years ago with The Liberator, the world's first 3D printed gun. Since anyone with a 3D printer can print a Liberator, it is effectively untraceable. This raised a lot of questions in the media and public eye.
Ghost Gunner is a variation on the untraceable theme. Essentially, Ghost Gunner is a CNC designed for one purpose: final drilling and milling steps for AR-15 lower receivers. The reason for this has to do with federal gun laws in the United States. According to US law, the lower receiver is the actual firearm, and is regulated. But when does a block of aluminum become a lower receiver? Here, US law states that the metal becomes a regulated receiver when the machining operations are more than 80% complete.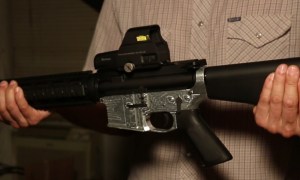 Anyone can legally buy a barrel, trigger, stock, upper receiver, and various other parts to build an AR-15. To complete the weapon, they only need to buy an 80% lower receiver and perform the last 20% of the metal work. This work can be performed with everything from a drill press to a milling machine to hand tools. Ghost Gunner partially automates this process, making it easier and faster to complete lower receivers and build weapons.
Defense Distributed calls Ghost Gunner an open source hardware project, though we were unable to find the files available for download at this time. It appears that the slides are made up of MakerSlide or a similar aluminum extrusion. The steppers appear to be standard Nema 17 size.
Defense Distributed says that they've been having a hard time keeping up with the Ghost Gunner pre-orders. At $1300 each though, we think a general purpose mill or small CNC would be a better deal.