Batteries flat and no cellphone coverage and you need to communicate hundreds of miles?  No problem. [Peter Parker VK3YE] has created a wind-up ham radio transmitter built into a discount store crank-handle flashlight (or torch). No batteries – all power comes from you turning the hand crank. This design was inspired by the 'Gibson Girl' emergency beacon transmitter used during Second World War. But what used to be an very large, full body cranking box is now tiny and simple to crank. Let's take a look at he video and the build details after the break.
With a simple wire antenna its continuous wave (CW) morse code signals can be heard hundreds of kilometers away, which is demonstrated in the video.
How it's built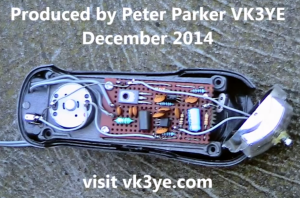 Removing the torch's LEDs, battery and PC board frees room for the three transistor transmitter. The generator remains to power the transmitter.
The first transistor is an RF oscillator using a 7.023 MHz crystal. It's on whenever the handle is being cranked. The oscillator's output is amplified by the second transistor connected as an RF power amplifier. Its output goes to the antenna via a low pass filter which suppresses harmonics. The faster you crank the greater the RF output but 500 milliwatts is typical.
Sending Morse code requires that the transmitted signal be switched on and off. This is accomplished by the keying transistor which energizes the RF power amplifier only when the key is pressed. This simple and reliable transmitter circuit is based on the famous OXO by [George Burt GM3OXX] many years ago.
A momentary push-button switch salvaged from an old video recorder acts as the key. Mount this in a spot where you can press it with the hand holding the torch while cranking the generator with the other.
Construction cost is under $20 and the project can be built in a day. The video linked above includes a description, a demonstration and circuit diagram. The one below shows a demo of [Peter's] hand-cranked radio communicating with a station 700km away. We think some possible add-ons for the ingenious device include a companion receiver, a PIC-controlled automatic keyer or a GPS attachment that send the position in Morse.