[Pat] is a luthier and general guy that likes to build stuff. In order to get his guitars to come out the best they can, he needed a thickness sander. For those who don't know, thickness sander is a machine that will sand off a small amount of material from the surface of a large wood panel. There are certainly commercially available thickness sanders but [Pat] thought that they were simple enough machines so he decided to give a go at making one himself.
Since [Pat] already had access to a pretty nice wood shop, it only made sense to build the thickness sander primarily out of wood. The frame is made from standard 2×4's. The drum is made from many disks of MDF mounted on a shaft and spun by an AC motor. You might imagine that a bunch of MDF disks mounted on a shaft would not result in a very cylindrical shape and that is exactly what happened here. So before applying the sand paper to the drum, course sandpaper was applied to a sheet of plywood and used to sand the drum round. It's a super simple technique that resulted in a true-spinning drum. Afterward, velcro is attached to the drum and velcro-backed sandpaper is wrapped around the drum. This allows quick and effortless changing of sand paper.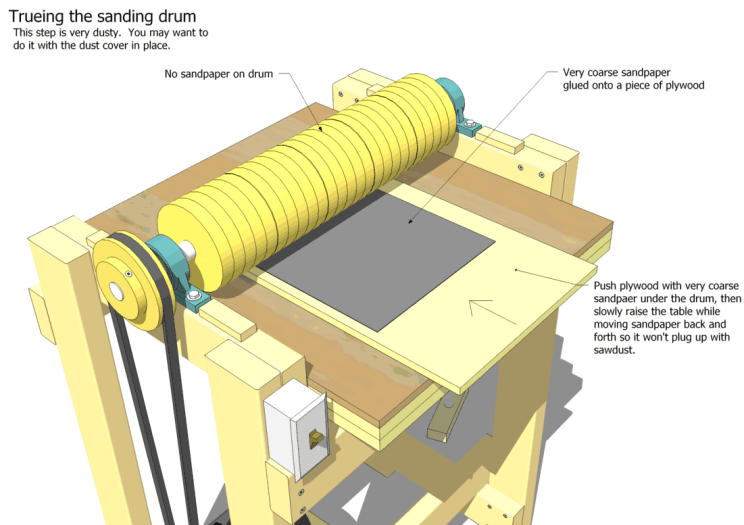 With a tool like this it is important to be able to adjust how much material is removed. This is done by way of a hinged table that can increase or decrease the distance to the drum. A simple wooden dust cover and shop vac suck up the dust. If you'd like to make your own sander, check out these extremely detailed plans.