Week 10 of the Caption CERN Contest is a wrap folks! Our surprised scientist brewed up a ton of great captions from our great Hackaday.io community. We may never know what exactly is in that keg/carboy, or what the heck is draining into that bucket. Still, it's probably safe to say that no one has put this much thought into those particular items since this scientist performed his research.
The Funnies:
"After many decades of hard work, Dr. Milton and his research was moved down into basement after he complained one too many times about his missing stapler." – [joe_pumpernickle]
"Parker! Get down here! Ever since that radioactive spider bit you, you've crawling up the walls!"-[DainBramage]
"It rubs the dielectric grease on its relay contacts or else it gets the hose again" -Team effort from [MechaTweak] and [Nick Sayer]
The winner for this week is [airbuckles] with "Meet Dooglas, experimenting with beer brewing, CERN style. Shown here controlling the critical HOP collider." [airbuckles] won't need any buckles for his new Robot T-Shirt From The Hackaday Store!
Week 11: A double-header!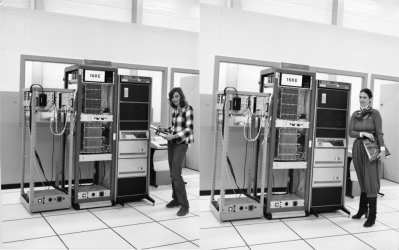 We've got something a bit different for week 11: Two images from CERN's archives! Both of these images feature a lovely PDP-11 from Digital Equipment in Galway, Ireland. They also feature two CERN researchers. The scientist on the left is wearing typical hacker attire – sneakers, jeans, and a comfy shirt. The hacker on the right went for something which we're guessing was a bit more stylish back in 1982, but hasn't quite held up to the test of time.
These scientists must have been doing some heavy-duty number crunching to need a PDP-11. Do you know what that strange hand wired rack of equipment is in the center? Do you have any idea where we can find a pair of harem pants like the woman on the left? Write a caption and let us know!
Add your humorous caption as a comment to this project log. Make sure you're commenting on the project log, not on the project itself. As always, if you actually have information about the image or the people in it, let CERN know on the  original left CERN image, and original right CERN image.
Good Luck!