While development boards for micro controllers are nothing ground breaking, they can be expensive, and often times overkill for what you're doing when they try to put everything you might use … including the kitchen sink. when [Brian] noticed his projects were starting to use Microchip PIC24 more and more, the time came to have a dev board on hand.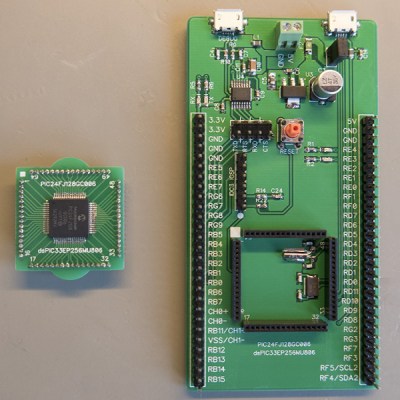 The result is a small board with breakouts for USB, UART (via FTDI), of course tons of GPIO pins, and a socket which mates with a daughter board to swap out either a PIC24FJ128GC006, or a DSPIC33EP256MU806, with the potential for more. Also packed on the board is a power regulator system and dual crystals allowing full speed operation or power sipping modes.
Schematics and PCB layout are available (in Diptrace format) along with a board template file to use with MPLAB on github.com. Once you have everything together you will need a PIC programmer, [Brian] is using a trusty Microchip MPLAB ICD 3 programmer, but naturally, others are available.
Microchip recently announced a new development board of their own for the PIC16F series. The Curiosity board has built-in support for programming and debugging (no chipKIT needed). The engineer who designed that board, [John Mouton] is going to join us on July 30th for a live chat about the design process. We're also going to be giving away some of the first boards to come off the production line… more about that this coming week.