On the far side of the Boso peninsula lies Kamogawa. This isn't the Japan of LEDs, Otaku and maid cafes, or that of wage slave salarymen collapsing from exhaustion. This is the Japan of rice farmers and fields, fresh fish and wild boar, electron microscopes and gigabit fiber, SMD assembly and 500Mhz 5 Gigasample oscilloscopes.
The world has changed. In the 20th century the life of a rural hacker was a constant hunt for technological innovation. We scratched around for whatever we could find. A (usually national) periodical would give its monthly injection of technological curios. And knowledge was locked tight within expensive textbooks, which even if you could afford them might take weeks to arrive.
So, as had been the case for the preceding 1000 years, innovation clustered around technological hubs, San Francisco, Cambridge, and Tokyo among others. And Hackers flocked to these centers where innovation flourished while Hackers exchanged knowledge and tools.
But then the world of the rural Hacker began to expand. The technological hubs that so many rural hackers had migrated to began to connect the world. Young Hackers could learn to program (as I learned C) from textfiles posted on BBSs and exchange knowledge linking national communities. Shortly after that the Internet came bringing its Eternal September. Hackers across the world, regardless of location could communicate.
On the flip-side tech centers were changing too. Venture capital, rather than bootstrapping became the norm. With the influx of cash the demand for skilled Hackers rose, increasing wages and further focusing tech talent around these hubs. But rents and expenses rose too. And Hackers became locked into their expensive lifestyles; eyes firmly focused on the promised million dollar payoff and the eternal dream of an "exit".
For some though, the freedom to Hack is more important than that million dollar exit and so a new model is emerging. Groups of Hackers in rural communities with low cost lifestyles and access to the world's best technical talent and equipment that would put the best startups to shame.
Rural living of course has its trade-offs. There's no local Starbucks to pop into, and the nightlife is mostly limited to the occasional nocturnal visitor in the form of a badger or fox. While fresh local produce, and restaurants catering to the tourist economy help entertain, a more important limitation is that technical jobs are not in abundance. This means industrious hackers have to find other ways of making money.
Solutions to this problem take many forms, from migrating to a tech center for a few months a year or remote contracting, to developing and selling projects in low volume (either via their own online stores, or a sales channel like Tindie). One critically difference: projects that might only provide pocket money in the metropolis can provide a sustainable living in the countryside where rents are low.
The finest example of this model is perhaps Hacker Farm a Hacker community centered around a small village in rural Japan. At present 4 families have relocated to the area with more on the way, and the occasional long term visitor. Many of Hacker Farm's members have fled the pressure filled life of the Tokyo tech workers. At Hacker Farm members share technical skills, tools, and co-working spaces equipped not only with electronic and scientific test equipment, but also tools used to renovate local abandoned structures for use by Hacker Farm members.
This freedom has also meant that tools can be acquired slowly. With a focus on repairing used equipment, a difficult proposition at most modern startups. Fueled by Japan's declining manufacturing industry, Hacker Farm has acquired and repaired a variety of test equipment most of which would have cost tens of thousands of dollars a few years ago. In some cases hundreds like their recently acquired electron microscope.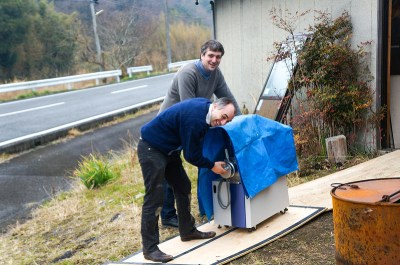 Projects like Techrice (a project to monitor water levels in local rice fields) have allowed them to integrate with the local community. And the abundance of time has allowed Akiba (the projects founder) to engage with rural communities in India, helping with Hill Hacks in Dharamsala and developing a number of performance projects such as his work with EL lighting on dancers and flair bartending rigs.
Hacker Farm is an inspiring place, and my experiences there led Farmer Glitch (somewhat surprisingly co-creator of a band also called "Hacker Farm") and me to found Yeovil Hackerspace which seeks to emulate the Japanese project's success. Our hope is that the two Hackerspaces can engage in shared projects, spanning the 6000 miles between them.
While in its infancy the model of the rural Hacker suggests the germ of a new way to work. For the modern Hacker the rural lifestyle doesn't have to be one of technological isolation, but one of which gives the freedom to hack and an abundance of that most precious of commodities, time.