Meet SAM, the Semi Automated Mason. SAM can lay bricks three times faster than a normal brick layer. SAM isn't planning on taking away any jobs yet though — it still needs a human mason following behind to clean up the mortar.
The robot consists of a standard 6-axis industrial robot arm mounted to a track system with a conveyor belt style feeder of bricks. It picks up each brick, covers the side with mortar, and places it next to the last brick it laid. A mason still has to do the tricky parts, like corners and aesthetics — but SAM is getting better — it can very easily follow a pixelated map of an image and place bricks up to half an inch in or out from the wall, to create a embossed image.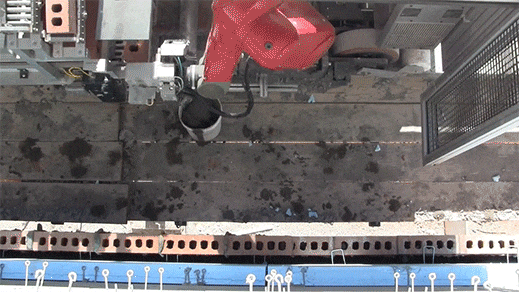 Is this the beginning of the robotic workforce? An Australian company has another robot called Hadrian, which apparently can build a house made of 15,000 bricks in about two days — it is still a prototype though. We've also seen a concept for a brick layer attachment for an excavator. As for SAM, the company (Construction Robotics) will start selling the system this fall for about $500,000 a pop.
[via reddit]