One can be reasonably certain that when the title of an article includes the phrase "The Nature of Reality", thought provoking words must surely lie ahead.  But when that same title seems to inquire about a gentleman's socks,  coupled with an image of said gentleman's socks which happen to be mismatched and reflect very loud colors , one might be moved in a direction which suggests the article is not of a serious nature. Perhaps even some sort of parody.
It is my hope that you will be pleasantly surprised with the subtle genius of Irish physicist [John Bell] and his use of socks, washing machines, and a little math to show how we can test one of quantum physic's most fundamental properties. A property that does indeed reside in the very nature of the reality we are a part of. Few people can say they understand the Bell Inequality down to its most fundamental level. Give me a little of your time, and you will be counted among these few.
A Question That Changed Everything
First, we need a brief trek through history. Our story begins not very long ago, but in a galaxy very, very far away. A lonely electron exists in an unknown state in our distant galaxy. I say unknown because we can't know. The galaxy, and hence the electron is several million light years away. [Einstein's] special theory of relativity puts a limit on how fast information can travel, making it impossible for us to know anything about the current state of the electron. [Einstein] doesn't know,
however, that our electron is special as well. It's entangled. This means it has a quantum link to another electron…an electron that happens to be in our very laboratory.  The property of entanglement says the two electrons must have opposite spin. So if I measure the spin of the electron in our lab, I can know the spin of the electron in the galaxy millions of light years away. Impossible!
There is no way around it…quantum theory does allow for this mysterious property of our reality. [Einstein] said it violated his relativity theory and its cosmic speed limit. A theory that has been proven beyond any doubt to be correct. How can this be? Which theory is right? [Einstein] proposed an alternative theory that would satisfy the paradox. He used what are known as local hidden variables, which you can catch up on in my first discussion of Bartlmann's Socks.
Basically, it says the spins of the two electrons are predetermined. But this is not compatible with a core principle of quantum theory, which says the spin of the electrons cannot be known until a measurement is made. And thus a great battle was born, with the victor earning the right to define the nature of reality. Unfortunately, [Einstein] and [Niels Bohr], who was leading the charge for quantum theory,  would not live to see the end of the battle. Fast forward a few decades and you come to a point in history where [John Bell] puts an end to the argument with the mother of all weapons – a pair of socks.
Socks, Washing Machines and Hot Water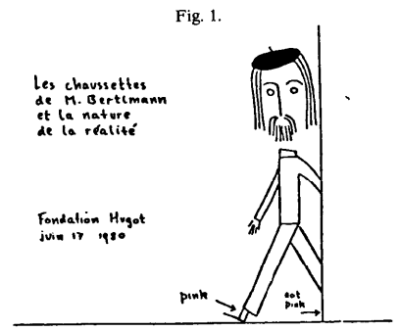 [Dr. Bertlmann] is known for wearing mis-matching socks to the lab. As his left foot enters through the door, you see that his sock is pink. Knowing what you know about Dr. Bertlmann], by observing the pink sock on one foot, you can derive information about the sock on the other. When you see a pink sock, you can say with absolute certainty that the other sock will not be pink.
Let us borrow [Dr. Bertlmann's] socks for some testing. We're going to see how they hold up to prolonged washing at different temperatures. We'll take the left socks and subject them to washing at three different temperatures. Let's label the left socks "A" and the three temperatures "a", "b" and "c". We'll wash each sock for the same length of time and then observe the results. Socks that are intact will be labeled "+" and socks that are destroyed will be labeled "–". Note that for this experiment, the temperature of the water and the time of washing are not relevant.
Math-based Sock Washing Predictions
With a little math, we can derive some predictions of our experiment without actually have to carry through with it. Let us make set n(a+, b–) denote the socks that survived temperature a and were destroyed at temperature b. We can also write this value as the sum of two sub-sets.  Let us imagine that a sock survives temperatures a and c, but gets destroyed at temperature b. We can write this as subset n(a+, b–, c+). Now take another sock that survives temperature a, but gets destroyed at temperatures' b and c, which we represent with subset n(a+, b–, c–). We can say that either sock in these subsets must be a part of set n(a+, b–). The same can be done with set n(b+, c–), as this would be the sum of subsets n(a+, b+, c–) and n(a–, b+, c–). Now, let us set this up as an equality:
n(a+,b-) + n(b+,c-) = n(a+,b-,c+) + n(a+,b-,c-) + n(a+,b+,c-) + n(a-,b+,c-)
This headache inducing equation can be broken down as such: On the right side of the equal sign are the subsets and on the left are the sets. We went over how to get these subsets from the sets in the above paragraph. What we're interested in is the two middle subsets.  This is n(a+, b–, c–) + n(a+, b+, c–) which yields set n(a+, c–). How does this work from a math perspective? This is after all, an equality. You can't fit n(a+, c–) on the left side of the equation. It doesn't work. We can therefore conclude that:
The sum of sets n(a+, b–) and n(b+, c–) must be greater than or equal to set n(a+, c–).
Now, the observant reader will have realized that if a sock is destroyed at temperature a , it cannot be available for tests at temperature's b or c. Let us not forget that [Dr. Bertlmann] had two feet, and socks come in pairs. They might be different colors, but their physical characteristics are considered to be the same. Such that the outcome of the tests on the left sock can be used to predict what the outcome will be for the right sock.
With access to pairs of socks and an understanding that the outcome of one half of the pair can be used to predict the outcome of the other, we can conduct a real experiment. We shall subject three samples of pairs of socks to three experiments. The left socks will retain their label of "A", and the right socks will receive the label of "B".
Experiment Time
We need to get around the problem of not being able to continue to test a sock because it was destroyed in a previous test. If a sock is destroyed at temperature a, how can we test it at temperature's b or c? We're going to get around this problem by using pairs. If I take a pair of socks, sock A and sock B, and subject each to different temperatures (or tests), I will get two results. Sock A will come out either intact (+) or destroyed (–) and sock B will come out similarly. Because the socks have the same physical characteristics, I can use the outcome of one test to predict the outcome in the other. What do I mean by that? If sock A is destroyed by temperature a, then I can make a prediction that sock B will also be destroyed at temperature a. This solves our dilemma, because if a sock is destroyed at temperature a, I can substitute in its pair for the following test. We can now proceed with a real world experiment.
Consider the chart below.
As you see, each experiment will test each of our socks at two different temperatures. For Experiment One, sock A will be subjected to temperature a and sock B will be subjected to temperature b. Then we will focus on the number of pairs of socks for which sock A survives (labeled '+') and sock B is destroyed (labeled '-'), which will be denoted as set N+-(a,b). The next point is key to understanding why we're doing the test in this fashion.
During the hypothetical test, we realized that set n(a+, b–), which is the sum of subsets n(a+, b–, c+) and n(a+, b–, c–), cannot be accurately tested because socks destroyed at temperature b will not be available for test at temperature c. In our real world experiment, we will substitute in the other half of the pair when this occurs.  By doing this, we can say that the number N+-(a,b) must be equal to our hypothetical number n(a+, b–).
For Experiment Two, we will wash sock A at temperature b and sock B and temperature c.  We apply the same logic as above to deduce that N+-(b,c) is equal to n(b+, c–). The third and final experiment will put sock A at temperature a and sock B and temperature c and we conclude that the resulting set N+-(a,c) is equal to n(a+,c–).
The law of substitution tells us that the sum of sets N+-(a,b) and N+-(b,c) must be greater than or equal to set N+-(a,c). If we apply our logic in a generalized form as a sum of probabilities, we get:
P+-(a,b) + P+-(b,c) ≥ P+-(a,c)
This, ladies and gentlemen, is Bell's Inequality. Take a look back at part one, and replace pairs of socks with entangled atoms, washing machines with magnets and temperatures with magnet orientations, and you have the same thing – the Bell Inequality. Let's run some numbers so you can see what all the fuss is about.
If we pick up from where we left off at the end of part one, quantum theory says that P+-(a,b)  = 1/2 cos2 (x/2) where x =  (b – a). We can choose any angle for the magnets we want. Let's say that:
Magnet A = 0°
Magnet B = 146°
Magnet C = 282°
Applying these values to the inequality would yield:
1/2 cos2 (73) +  1/2 cos2 (68) ≥ 1/2 cos2 (141)
or
11.2% ≥ 30.1%
Conclusion
The numbers are obvious. The predictions from quantum theory violate the Bell inequality. There is no getting around it. Remember, the angles of the magnets are represented as the temperature of the wash water. It doesn't matter at what temperature we wash our socks, the sum of sets N+-(a,b) and N+-(b,c) must be greater than or equal to set N+-(a,c). Likewise, the same can be said for the angles of the magnets and atomic spin. From part one you learned how we use the angle of the magnets to determine if the spin of the atom is up (+) or down (–), which is analogous to a sock that survives or is destroyed. By changing the angle of the magnets and looking at probabilities for different spin outcomes, we can subject the paradox to an actual, measurable experiment. [John Bell] has given us the ability to perform a real world test to see who is right – [Einstein] and his hidden variables or [Bohr] and his quantum theory.
"If the hidden variable extension is local it will not agree with quantum mechanics, and if it agrees with quantum mechanics it will not be local."

John Bell
When [Bell] put forth his inequality (pdf) to the scientific community on July, 18th 1980, the technology to actually carry out such a test was not yet in reach. But it was close. In 1982, French physicist [Alain Aspect] made it his thesis to carry out such a test. While the results leaned toward the direction of quantum theory, there were still loopholes that kept [Einstein's] hidden variables on life support. But as technology caught up, the loopholes were eventually closed, giving quantum theory the winning hand.
The next time you see a person wearing mismatched socks, I hope you think about [John Bell] and how he used such a trivial part of our daily lives to prove a not so trivial part of our daily existence.
Sources:
The Quantum Story, by Jim Baggott. Chapter 31  ISBN-978-0199566846