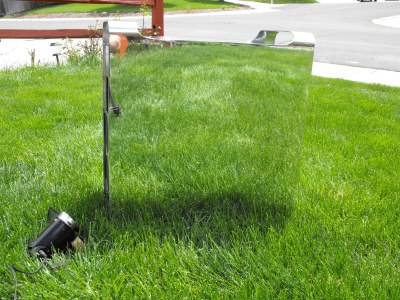 Here is the best Mac mod we've ever seen. [Doogie] decided to take an Apple G5 Quad to the max. This means maintaining the liquid cooling setup, adding the max amount of RAM (16 GB), adding a Sonnet Tempo 6.0Gb PCI-e card and two Samsung 840 Pro SSDs, and an Nvidia Geforce 6600GT. The best part about this Mac? Instead of the classic anodized aluminum, [Doogie] polished the case to a mirror finish. Here's a video of the entire build. The computer is currently serving up his webpage, and if you want to see how the server load test is going, you can check out the stats page here.
Hackaday links posts are where we put interesting kickstarters and crowdfunding projects, and this one is near the top. It's a crowdfunding campaign for a glassblowing workshop in England. If this project is funded, people can come repair their scientific glassware, make new tubes, or take a glassblowing workshop. It's not quite a crowdfunding campaign for a business (perhaps it should be?), but maybe someone out there has a glass lathe they can donate.
A few months ago, Microchip acquired Atmel for $3.56 Billion. There's a lot of overlap in both company's portfolios, leading many to wonder which products would be EOL'ed and removed from the market. This week, Microchip released a statement on the acquisition (PDF), and spelled out what to expect from the product line. It's good news:
We know that stability and growth in manufacturing is an important consideration from a supply base, and it has been one of the key elements that Microchip has executed well throughout its 25+ year life. We will honor that concept in this integration activity as well. We also recognize that product End-of-Life may be one of your concerns in any acquisition, including this one. Microchip has a practice and track record of not putting products on End-of-Life, and it is our intent to continue to offer the complete portfolio of products from both companies.
On April 5th, Makerbot announced it has sold more than 100,000 3D printers worldwide. Sounds like quite an accomplishment, right? Wrong. From December 31, 2014 to April 5, 2016 – fifteen months – Makerbot has sold only 20,094 printers. Sales figures are hard to come by (I'm working on this), but Lulzbot is outselling Makerbot given one of their latest press releases and basic math. There will be more on this after Stratasys releases their 2015 yearly report (on May 9), but I'm calling this the beginning of the end for Makerbot.
Here's a Kickstarter for a laser cutter. The first reward that will get you a laser cutter is €1.300, "a special 50% early bird Kickstarter discount off the estimated retail price." That means this is a $3000 laser cutter. What does that get you? A five watt 'shortwave' laser, 20×16″ working area, and a software interface that actually looks rather good.