If I can offer one piece of advice to the Hackaday readership, it is this: Never, ever, be the sole member of your hackerspace's board that owns a large station wagon, unless you relish the thought of packing an entire hacker camp village into your vehicle and transporting it halfway across the country in the blazing August heat.
I've done my laundry, aired my tent, and just sorted the contents of a brace of Tesco bags into several categories: rubbish, food, camping gear and interesting stuff. As I write this, yesterday was teardown day for Electromagnetic Field 2016, an event that bills itself as "a non-profit UK camping festival for those with an inquisitive mind or an interest in making things: hackers, artists, geeks, crafters, scientists, and engineers", and this is a personal account of the event from the point of view of both being part of the Oxford Hackspace village and of waving the flag for Hackaday and Tindie.
Preparation
EMF Camp preparation should really have begun about six months ago for us, but as is the way of such things all the other parts of running a hackspace intruded and we've just had about ten days of frantic activity to get everything under way. You may have seen the signature EMF Camp logo overlooking the proceedings, but what you may be unaware of is that each letter is the product of a different hackspace or group. At Oxford Hackspace, we've had responsibility for the last two "M"s, so there has been a lot of woodwork and pink acrylic tiger-pattern fur in the space. The idea was that the M would have a pair of eyes that would be linked to a motion detector, tracking passers-by, but sadly the friction of chair castors couldn't be overcome with the little motors we tried, and the eyes remained static. If we don't tell anyone, nobody will know they were supposed to move, right?
Our gazebo for the weekend sorted, a final task was to make a flagpole for the Jolly Wrencher. With me wearing my Hackaday hat, we'd be hosting a bring-a-hack event on behalf of Tindie. For this we pressed into service a collection of PVC pipe offcuts and cable ties that I'll pretend for my employer's sake was a professional solution rather than just what we had at hand in the hackspace.
When planning a camp attendance on behalf of a hackspace, it's important to carefully consider where you would like to be. Part of circus, or somewhere quiet? The Oxford consensus was for somewhere in the thick of it, so we were downhill between the competing sound systems and smoke machines of our friends from both the Netherlands and London Hackspace, and opposite the Surrey University ARES people who were running a soldering challenge. Noise isn't such a barrier to a good night's sleep if it's constant rather than intermittent, and we valued the passing traffic for its never-ending source of spectacle and acquaintances.
Work
The Friday night saw our village host the Tindie bring-a-hack, for which my colleagues [Jasmine] and [Shane] had arrived bearing beer and snack food aplenty. You'll find [Shane] writing about the projects on the Tindie blog, so other than to express thanks for what the community brought forth I won't steal his thunder.
Meanwhile on the OxHack side we had a few things to show. Our fellow member [Phil] had brought along the TIE fighter pilot costume he's been putting so much effort into in the space, and courtesy of a passing Cambridge Makerspace member he was able to do battle with the Rebel Alliance from the cockpit of a Sinclair C5. And for the late evenings we had the OxHack Tandoori, on the premise that anything cooked in a real tandoor is by definition tandoori food. Even pop-tarts, now that's what we call fusion cuisine! Lighting was provided by another member [Hugh Pryor]'s electroluminescent light bulbs in vintage bottles, and a succession of passers-by stopped to warm up and eat tandoori baked potatoes.
Play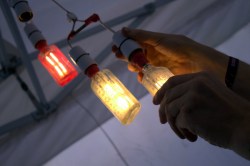 Enough talking about OxHack, Hackaday, and Tindie. What about everything else? It can be overwhelming at first sight to walk around an event of this size, because there is simply so much on. Everywhere you look there are interactive artworks, lectures, activities, or fascinating hacks, and everywhere you stop to say hello you drop seamlessly into interesting conversations in which there are no blank stares of the non-maker. In short, we've all come home, this is the place for us.
So what sticks in the mind among such a festival of creativity? The Lapin Lumiere Tweetable light-up inflatable rabbit perhaps, or the Hitchin Hackspace Big Hak. Yes, a Milton Bradley Big Trak large enough to carry you from your village to the Robot Arms. Maybe it's best to work around the site map and mention some of the highlights by location, and since both the rabbit and the Big Hak we've already mentioned were close to each other then that's where we'll start.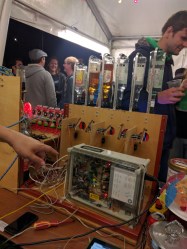 Moving up the hill, no after-dark campsite tour would be complete without a visit to the Nottingham Hackspace BarBot. During the day they were selling pic-n-mix sweets, but somehow never matched their evening crowds.
Then a campsite stroll would have taken you past the Irish Embassy, at which could be found TOG, the Dublin hackspace. Sadly their mobile rubber duck didn't seem to have crossed the Irish Sea with them, did I miss it?
At the top of the site, on the edge of the quiet area were South London Makerspace with their LED signage and light rope. The latter seemed to take on a life of its own, of which I'm sure the Top Gear team would approve.
The western side of the site seemed to be the noisier section, with a selection of busier villages and sound systems. Along the fence were the radio amateurs and the high-altitude balloonists, but on the main thoroughfare you passed Milliways restaurant and the Scottish Consulate before reaching the Netherlands village. Stroopwafels by day, dance music by night, and one end of the smoke machine war with the London folks. We Oxford Hackspace members just sat and enjoyed the show from the middle.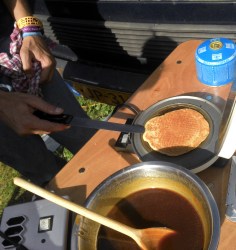 The bottom of the site below the campsite housed the main stage, chill-out lounge, Robot Arms bar, and food vendors. There was a selection of installations including the Fire Pong game, a grid of web-controllable sticks of LED lights, and a giant Guitar Hero clone. This part of the camp also had one of the smaller but more engaging art installations, a twirling musical synthesiser triggered by a proximity sensor (YouTube). A constant succession of visitors stopped to play with it, perhaps it was the interactivity combined with its human-like stature that caused them to anthropomorphise it.
This whistle-stop tour of the site has barely scraped the surface of everything that was on offer. There was a comprehensive range of official talks as well as loads of smaller village events, so there was always something to see. In the evening there was music, the one particularly sticking in my mind was OxHack member and ZX Spectrum chiptune rockstar [Gasman]'s live set. Sadly, at the time of writing, this performance is not yet online, however for a flavour you can see him at the 2014 EMF camp.
So that's my EMF Camp, split mostly between Oxford Hackspace and Hackaday work. I didn't get much sleep, I ate too much greasy food, the festival sanitation was an experience not relished, and I had to shower in the middle of the night to avoid the queues. Will I be going back in 2018? Hell yeah!
When she is not writing for Hackaday, Jenny List is a director of Oxford Hackspace.