There are times when a mechanism comes to your attention that you have to watch time and time again, to study its intricacies and marvel at the skill of its designer. Sometimes it can be a complex mechanism such as a musical automaton or a mechanical loom, but other times it can be a device whose apparent simplicity hides its underlying cleverness. Such a moment came for us today, and it's one we have to share with you.
RainCube is a satellite, as its name suggests in the CubeSat form factor and carrying radar instruments to study Earthly precipitation. One of the demands of its radar system is a parabolic dish antenna, and even at its 37.5 GHz  that antenna needs to be significantly larger than its 6U CubeSat chassis.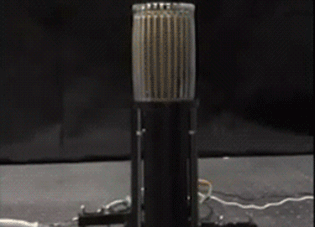 It is the JPL engineers' solution to this problem that is the beautiful mechanism we want to show you. The parabola is folded within itself and tightly furled round the feedhorn within the body of the satellite. As the feedhorn emerges, first the inner sections unfurl and then the outer edge of the parabola springs out to form the dish antenna shape. Simultaneously a mechanism of simplicity, cleverness, and beauty, one we'd be very proud of if it were our creation.
There is nothing new in collapsible parabolas used in spacecraft antennas, petal and umbrella-like designs have been a feature of some of the most famous craft. But the way that this one has been fitted into such a small space (and so elegantly) makes it special, we hope you'll agree.
[via space.com]