When my elder brother and I were kids back in the late 1970's, our hacker Dad showed us this 1960-61 catalog of the Atlas Lighting Co (later Thorn Lighting) with an interesting graphic design on the cover. He told us to do a thought experiment, asking us to figure out how it would be possible to have a machine that would draw the design on that catalog cover.
Incorrectly, our first thought was that the design was created with a Spirograph. A spirograph has two main parts: a large ring with gear teeth on the inside and outside circumferences and a set of smaller, toothed wheels with holes in them for inserting a drawing instrument — usually a ball point pen. You hold the big ring, insert the pen in the smaller wheel, and then mesh and rotate the smaller wheel around the big ring. But spirographs can't be used to draw irregular, asymmetrical figures. You could always recreate a design. Because of the nature of gears, none of them were unique, one off, designs.
We figured adding some lever arms, and additional geared wheels (compound gears) could achieve the desired result. It turns out that such a machine is called a Cycloid Drawing Machine. But even with this kind of machine, it was possible to replicate a design as often as required. You would fix the gears and levers and draw a design. If the settings are not disturbed, you can make another copy. Here's a video of a motorized version of the cycloid machine.
The eventual answer for making such designs was to use a contraption called as the harmonograph. The harmonograph is unique in the sense that while you can make similar looking designs, it would be practically impossible to exactly replicate them — no two will be exactly the same. This thought experiment eventually led to my brother building his own harmonograph. This was way back when the only internet we had was the Library, which was all the way across town and not convenient to pop in on a whim and fancy. This limited our access to information about the device, but eventually, after a couple of months, the project was complete.
Getting the Swing of Things
It quickly dawned on us that using gears wasn't the solution to this problem. A pendulum clock gave us some pointers about a plausible solution. Much later we learned that the earliest 'lateral' harmonographs consisted of single axis pendulums. One moved the pen laterally along the drawing platform, while the other moved the drawing platform perpendicular to the pen. Their limited movement resulted in Lissajous curves. If the pendulums were instead allowed more degrees of movement by fixing them to gimbals, more complex designs were possible.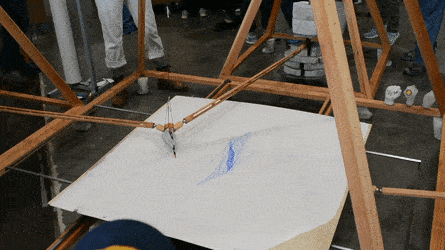 But getting from theory to practice isn't always easy. We could tie string to a pen and weigh it down with some weights, attach it to a hook, and swing it around. That might work, but we would need a spherical (concave) surface for the pen to make constant contact. Here's an example that shows paint streaming out of a nozzle from a swinging container. Or we could use a free floating or spring damped pen which is able to move freely in the vertical axis to ensure that it is in contact with the paper while the pendulum swings around. [Jonathan Lansey] describes the construction of such a single pendulum harmonograph with a floating pen mechanism, along with a detailed mathematical analysis.
Our Prototype
After some more time with our thinking caps on, we finally had a good idea of how to build our device — a dual pendulum design, with one pendulum moving the pen and the other one moving the drawing platform. We could attach a rigid pendulum to a gimbal, fix a hinged lever on top of it and a pen at the end of the lever. Move the pendulum and the pen will move too, but will stay in constant contact with the paper because of the hinged lever. All we had in terms of plans was hand drawn sketches. We tried using material we had lying around, so there were a lot of changes going from sketches to finished parts. It helped that we had our own workshop with all the tools and machines needed to build it.
Our final design consisted of a welded steel frame that could be cantilevered to the edge of a table, so it wasn't a self-standing design. The frame held two gimbals, each having a pendulum. One carried the pen lever with its counter weight, while the other was used to move the drawing platform. Adjusting the pendulum height changed the time constant, and adjusting the pen lever counter weight controlled how firmly the pen pushed on the paper. More weight caused friction, slowing down the pendulum faster. Less weight and the pen lines became whisker thin. The new version, seen in the video below, was built a couple of years back and is similar to the one we built in the '70's, except it is completely self standing and portable.
Harmonograph Design Improvements
It's possible to add additional degrees of movement to create even more stunning art. Instead of moving the pen via a single pendulum, you could use two pendulums and get the pen to move in an even more complex motion. [Karl Sims] describes the construction of such a three pendulum design which is simple to fabricate. Or you can attach two, or even three, pens and create multi-colored designs.
In 2017, with the comfort of having instant access to practically any kind of information, it's easy to learn a lot more about the harmonograph than we could back in the '70's. For example, Vol 100, Issue 1389 of the New Scientist from 1983 features a nice one page overview of the harmonograph, giving some insight into its past history. And [Anthony Ashton]'s book Harmonograph: A Visual Guide to the Mathematics of Music is considered a definitive reference on this subject. Do a cursory search for harmonograph images in any search engine and you will have hundreds of beautiful pictures to admire.
We featured a three pendulum harmonograph, built using [Karl Sims]'s plans a long while ago and were wondering if any of you hackers out there have built another one? Let us know.