It was a dark and stormy afternoon, the kind you get on the east side of the country. I was drinking a coffee, sitting in a camping chair in front of my door, and watching like a hawk for the treacherous cable man to show up. This day there would be no escape. There would be no gently rapping the door with a supple sheepskin leather glove before scurrying away for another union mandated coffee break. I was waiting, I was kind of grumpy, and by God today would be the day. Today would be the day that after hours on hold, after three missed appointments, after they lost my records twice; I would get an answer on whether or not they could actually service internet to my apartment. If I was lucky, and the answer was yes, then approximately two to three thousand years later they would run a cable from the telephone pole to my house and I could stop commandeering WiFi from the pizza shop across from me.
It's important to note that I was in the middle of the city. I wasn't out in the boonies. Every house on the block but mine had cable. While this is dumb, it begins to make more sense when you dive into the history. Louisville, Kentucky is a strange place. It used to be the gateway to the west. Ships would crawl up its river until they reached the falls. Then porters would charge an exorbitant fee to carry all those goods down to the bottom of the falls where they would be loaded on a ship and be sent ever westward. Resulting in every rich merchant, captain, and manufacturer in the region having a nice house there. Ever wonder why the Derby is in Louisville and the Queen comes to visit sometimes? It probably has something to do with it having the highest concentration of Victorian buildings and mansions outside of New York City.
History Meets Modernity: Birth of the Franchise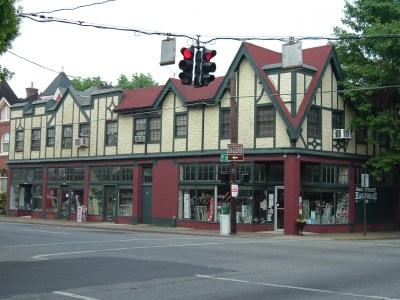 What this means from an infrastructure perspective is that the city is a horrible mess. Pedestrian streets were converted to roads. Cobbles were paved straight over with asphalt. The 1900's water pumping station is still working (albeit with electric pumps instead of steam), and only recently have all of the wood water pipes been replaced. Also, every second building is a priceless and registered historical landmark, thankfully untouchable by the foul hand of modern architecture.
Internet in the United States is a comedy of good intentions gone bad. Before we get the pitchforks, It's important to keep in mind, if you live in a smaller by landmass country, that America is ridiculously huge. It's goddamn enormous and there just aren't that many people. So, when the internet started to be a thing, people who wanted internet were quickly finding that no one was going to give it to them. Not unless they had a ton of money. Which, made sense. Who was going to spend 50 grand to run a cable line to grandma's house for a 30 dollar a month service payment? In Japan you might hit five hundred customers for the same expense, in the US, you'd be lucky to make it halfway to the end of a street in a suburb.
To solve this issue lawmakers promised telecoms, tv providers, and ISPs endorsed monopolies if they serviced a whole region, as long as they serviced everyone in the whole area. Thus, the "franchise agreement" was born. This worked great, and everyone was mostly happy. That is, until we came up with a bunch of really really cool internet technologies and found that nobody had any incentive to spend money on the upgrade.
Who Doesn't Want Fast Internet?
Louisville embarked on a quest to get really fast internet because who doesn't like really fast internet? Plus, they were probably jealous of Chattanooga and their dirt cheap municipal fiber.  First it reached out to its existing infrastructure suppliers. At the time, these were Insight and AT&T. As far as I can tell their answer was, "why?". From their perspective, they had a signed and stamped monopoly, and spending any money doing tedious things like customer service,  infrastructure maintenance, and even gaining new customers just didn't appeal to them.
So Louisville put out a general call for, "please save us from our slow internet," and a few companies responded. The problem came when the companies started costing out exactly how much it would cost to run fiber. For example, why not just run the fiber above ground on the telephone and power poles? One company discovered that, they couldn't just run the cable on the pole. There was a vast history of meddling and pointless laws to overcome. No, they had to run the cable on the top slot of the pole. Unfortunately, that top slot and all the slots below it were occupied. Which meant that they had to pay to move all the other cables down. For each pole. This costs a lot.
Arms Crossed and Not Budging
With the realization that the various contracts, maneuverings, and finagling done by the telecoms over the years actually added up to an impenetrable bastion of legal bullshit, companies pulled out and the people in Louisville got kind of desperate. Some organizations came in and proposed things like, running the fiber through the water or wastewater lines, but these didn't pan out.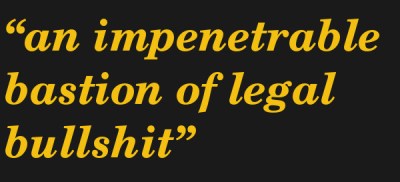 The populace then turned to the one company that had the appropriate proportion of stupid and money. The one company that would look at the bureaucratic mountain and say, "we have lawyers for that." The company that knows exactly what kind of engineering porn you watch and is now permitted to sell that information, Google.
It took a lot of petitioning, but Louisville managed to come in as one of the last cities to be embraced by the comforting, gigabit arms of Google Fiber before Google toddled away after the next shiny project, which is a balloon, satellite, or something equally odd.
Of course, it's all still in the balance. Google is "very committed" to bringing internet to Louisville. This was apparently enough to encourage AT&T to suddenly admit that it did, in fact, have a department capable of installing fiber all along and they promptly started doing just that. A local company jumped on the bandwagon and ran fiber to the rich neighborhoods. The other stalwart, Insight, was swallowed up by Time Warner Cable. Which was  then swallowed by Charter. Which, for some reason, instantly rebranded themselves to "Spectrum" and redid their branding so they look like a shady Russian domain registrar, but to each their own.
As weird as this specific situation is, it's a story that plays out all over the USA. Often it's easiest to wail and gnash teeth at the evil telecoms, but when you get down to it, usually history and good intentions are at the true culprit behind the halt of progress. Which is why it's important to remember that complaining about it on Facebook does nothing, and that usually town hall meetings are empty of citizens, even in big cities.  It look a lot of work from the local citizenry, hackerspace, businesses, and officials to get Louisville so far. They spent countless hours rallying, surveying, and generally participating in their government. Regardless, it will still be awhile before everyone in Louisville gets fancy internet. As for my quest to get internet, they never did show up to that apartment; not for the two years I lived there. Do you have your own local nightmare story?