One of the great predictions of desktop computing from the mid 1990s was that we would all move to so-called thin clients, stripped-out desktop computers containing only processor, display driver, and peripheral interfaces, that would call up their applications not from a local hard disk but from a remote server. It was one that was never fulfilled in quite the way its proponents envisaged, but a business thin client hardware market did emerge for the likes of Citrix sharing of Windows applications. In a sense we have reached the same point through cloud-based in-browser applications such as Google Apps or Office 365, though even with newer thin client hardware such as the Chromebook these are still largely used on more traditional machines.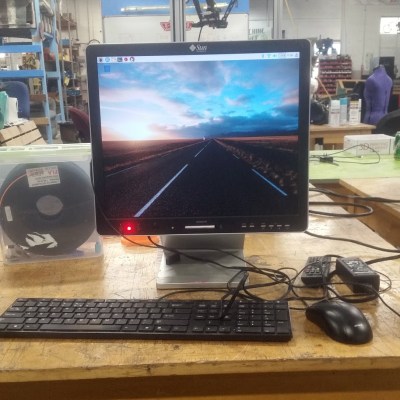 Even though thin clients never took the world by storm, it is still not unusual to encounter the hardware once it has outlived its usefulness. A surplus Sun Ray 270 all-in-one thin client came [Evan Allen]'s way, and to make something useful from it he converted it into a Raspberry Pi workstation.
The Sun Ray 270 has a MIPS processor board integrated into a 17 inch monitor. [Evan] was fortunate enough to find a generic HDMI controller board for its LCD panel, so was able to dispense with the MIPS board entirely and couple the controller with an automatic HDMI switch. This allows him to use the device both as a Raspberry Pi and as a monitor.
This may not rank among the most epic hacks ever, but it has delivered [Evan] a useful computer and it's reminding the rest of us that these thin clients can be repurposed. So if one lands on your bench, look at it with fresh eyes.
Of course, if you have a Pi in a thin client, you could always take it full circle and use it to run a thin client.