[Ben Krasnow] is known for his clear explanations alongside awesome hardware, being one of only a few hackers who owns an electron microscope. This time he's explaining how E-paper works while modifying the firmware of a 4.2 inch E-paper module to get a higher refresh rate. As for the awesome hardware, he also analyses the signals going to the E-paper using an ultra-fancy loaner oscilloscope.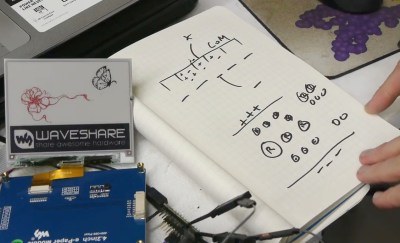 After starting out with a demo of the firmware in action before and after his modification, he explains how the E-paper works. The display is made up of many isolated chambers, each containing charged particles in a liquid. For example, the positive particles might be black and the negative might be white. By putting an electric field across each chamber, the white particles would be attracted to one end while the black would be attracted to the other, which could be the end you're looking at. He also explains how it's possible to get a third color by using different sized particles along with some extra manipulation of the electric field. And he talks about the issue of burn-in and how to avoid it.
Having given us that background, he then walks us through some of the firmware and shows how he modified it to make it faster, namely by researching various datasheets and subsequently modifying some look-up-tables.
Turning back to the hardware, he shows how he scratches out some traces so that he can attach scope probes. This alone seems like a notable achievement, though he points out that the conductive layer holds up well to his scratching. At that point he analyses the signals while running some demos.
The result is the very informative, interesting and entertaining video which you can watch below.
We have a lot more of these amazing adventures with [Ben] here on Hackaday. We really enjoyed seeing his entry for the flashing light prize where he heated a coin cell to squeeze out some extra current. And his 2016 Supercon talk on rapid prototyping is a pep talk for all hackers.