The tagline of Bay Area Maker Faire is "Inspire the Future" and there was plenty of inspiration for our future generation. We have exhibits encouraging children to get hands-on making projects to call their own, and we have many schools exhibiting their student projects telling stories of what they've done. Then we have exhibitors like Oakwood School STEAM Council who have earned a little extra recognition for masterfully accomplishing both simultaneously.
[Marcos Arias], chair of the council, explained that each exhibit on display have two layers. Casual booth visitors will see inviting hands-on activities designed to delight kids. Less obvious is that each of these experiences are a culmination of work by Oakwood 7th to 12th grade students. Some students are present to staff activities and they were proud to talk about their work leading up to Maker Faire with any visitors who expressed interest.
In one activity, visitors build their own tippe top. Each person pulls a 3D-printed body from inventory, performs surface finishing work with sandpaper, and install a wooden dowel stem followed by optional decorations with color markers. This simple build is accessible to a wide spectrum of audiences and provides immediate satisfaction with a fun toy. But how was the tippe top's body shape determined? They did not just download something online. The profile was generated by students working and iterating through many ideas satisfying the requirement — fits within a volume of 30 cm³ — while maximizing their evaluation metric — flips over fastest and remains spinning upright longest. Once a winning design was chosen, it was printed at quantity to star in this activity at Maker Faire.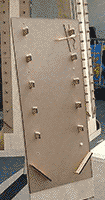 Another activity invites visitors to build a gravity racer. Just like the tippe top activity, the design actually built by Maker Faire attendees is the winning design from Oakwood students who worked to find the best shape to meet the challenge. Builders at the faire can customize their own racer during assembly from provided parts, then two racers can compete side by side on a long track to see how well their racer worked.
Chair [Marcos Arias] steers Oakwood's STEAM program with the North Star of "Play to Passion to Purpose." It was fascinating to hear about the work behind these and other fun Maker Faire activities. We can rest assured that creative problem-solving hacker spirit is nurtured at such schools to inspire our hackers of the future.