These days there a large number of sensors and analog circuits that are "controller friendly" meaning that their output signal is easily interfaced to the built-in Analog to Digital Convertors (ADCs) often found in today's micro-controllers. This means that the signals typically are already amplified, often filtered, and corrected for offset and linearity. But when faced with very low level signals, or signals buried in a larger signal an Instrumentation Amplifier may be what's needed. The qualities of an Instrumentation Amplifier include:
A differential amplifier with high impedance and low bias current on both inputs.
Low noise and low drift when amplifying very small signals.
The ability to reject a voltage that is present on both inputs, referred to as Common Mode Rejection Ratio (CMRR)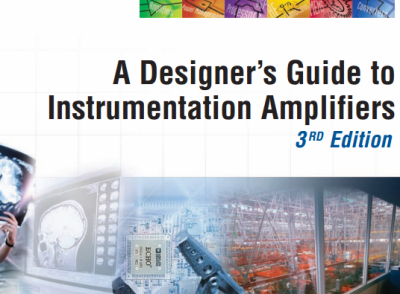 Before I get too far let me point you at an excellent resource; Analog Devices has made available a free book "The Designers Guide to Instrumentation Amplifiers" (PDF). This has been added to my collection and because I am from the databook generation I have printed and stapled my copy.
If we look at a standard differential amplifier made with an Operational Amplifier (OpAmp) we see some issues , namely that the inputs are not high impedance, and they are not balanced. The node at the non-inverting input is a virtual ground due to being driven by the output through Rf; the input impedance of this leg is equal to R1. On the non-inverting input the impedance is equal to R2 plus Rg as Rg leads directly to ground.Consequently the inputs are dissimilar due to the different configurations.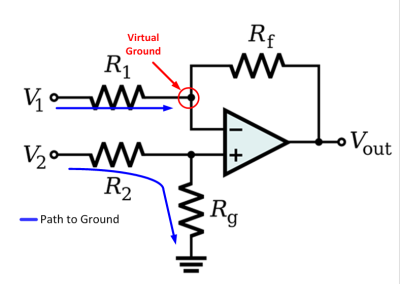 We can represent a more ideal Instrumentation Amplifier as shown below. Note that only high impedance inputs are used with no extraneous paths to ground. The final stage provides the differential operation of subtracting one signal from the other. Creating an Instrumentation Amplifier this way would still require the use of stable amplifiers preferably with very low input currents, in the old days I used to use Precision Monolithic' s OP-07 amplifiers, alas PMI is long gong these days having been acquired by Analog Devices.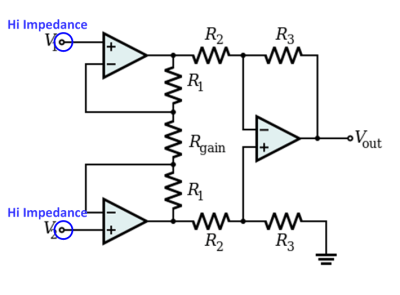 To demonstrate an Instrumentation Amplifier in use in the video, I connect a sensor used in digital scales (known as a load cell) to the instrumentation amplifier and measure the output with my Keithly voltmeter. Since my custom PCB did not come back in time I used one of my two Instrumentation Amplifier evaluation boards I have lying around, this one made by Analog Devices.
A load cell is made from strain gages attached to a metal frame and essentially we are measure very minute changes in length of the copper traces due to the stress on them – a very tiny signal! Also because the gauges act as a voltage divider across 15 volts, the very tiny signal we want is superimposed on top of the relatively huge 7.5V. The ability to strip the huge 7.5V DC signal that is common to both inputs is known as the Common Mode Rejection Ratio and is an important aspect when picking an instrumentation amplifier.
Connecting the load cell to the evaluation board set for a gain of 1000 does give us enough amplification where we can easily see the effects of applying a force to the load cell. As this is a wide band amplifier and there is no real filtering going on you can see what is essentially amplified noise present in the oscilloscope trace.
In a real weighing application there would be judicious use of shielding and some low pass filtering applied to create a consistent DC voltage representing the weight on the load cell.
I will talk more in the future about reducing drift and noise and other analog tips, meanwhile the Instrumentation Amp is often the key to some low level or critical signal measurements that may otherwise elude attempts to be measured by the standard A/D fare.