Hackaday is getting back into the swing of doing reviews, and with that comes reviews of the tool du jour, 3D printers. I have some reservations about reviewing a 3D printer; they're a new technology, and what may be standard today could be hopelessly outdated in a few months time. Remember geared extruders? The new hotness is, apparently, direct drive extruders.
This is a review of the Printrbot Assembled Simple Metal. If you need any evidence that reviews of 3D printers have a shelf life, you only need to look at the Getting Started guides for this printer. When I bought my Simple Metal, the Printrbot recommended software stack was Slic3r and Repetier-Host. Barely three months later, Cura is now the Printrbot recommended software stack. If you think a simple change in software is inconsequential, check out these prints: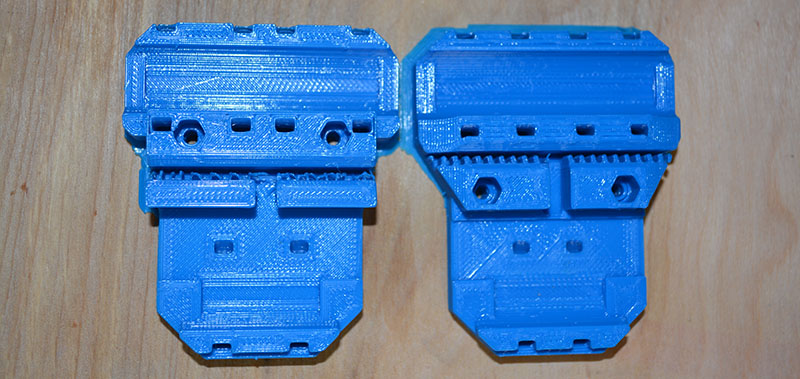 The print on the left was sliced with Slic3r. The print on the right was sliced with Cura. Notice the small teeth that grip the timing belt on each of these prints. With the Cura-sliced print, everything is fine. The Slic3r-sliced print is a complete failure, not of the machine, but the recommended software for the machine.
Therefore, if the goal of writing a review is to have a definitive opinion of a piece of equipment, a number of questions must be addressed. Since most 3D printing software is open source, should software be included in the review? Is the value proposition of a 3D printer simply a function of price to build volume (this seems to be the standard metric now), or are there intangibles? Should the review cover the quality of prints out of the box, or should the review only focus on print quality after dozens of hours of tweaking? I simply don't know the answers to these questions, and I suspect you couldn't get any two people to agree on the answers to these questions.
With that said, I feel I have used this printer enough to make a judgment call as to if this printer was a good buy.
Setup
My Metal Simple arrived via UPS in a very nice yet plain cardboard box. The packaging of the Printrbot is somewhat of a work of art, that should be more than sufficient to protect the bot from shipping damage without filling the box full of wasteful styrofoam. Someone at Printrbot has experience in packaging design, and I have to tip my hat for that.
As I said above, it's difficult to provide commentary on an aspect of a product that has changed completely in just a few months, but thanks to a few terrible prints because of Slic3r, I can provide feedback for the setup with both software stacks.
For Repetier-host, the setup was a breeze. The official guides and videos walk you through a process of calibrating the Z axis height, printing out a few calibration cubes, and finally printing a functional part — the fan shroud that will be a necessity for more complex prints.
Cura is a different beast entirely, but in many ways better than Repetier-host; everything is in one panel, the slicing is fantastic, and all the prints come out great.
When printing larger and longer prints, I would suggest not viewing the progress of the print in the host software. There are a few issues with the serial port when viewing a print in progress with Repetier. These issues don't cause your print to fail, but they will increase your print time dramatically. I left a 12-hour print going overnight, and when I came back to it in the morning, there were two extra hours added to the ETA. Leave Repetier on the temperature graph, and you won't have this problem.
Hardware
The Printrbot Simple Metal uses a direct-drive extruder, fan, and the Printrbot-designed Ubis hotend. This hotend features a nichrome wire heater wrapped around a brass tube, separated from the extruder by a piece of PEEK. This is, on all accounts, a design from three or four years ago. The go-to design now is an all-metal hotend that's able to extrude nylon and other exotic plastics besides the usual ABS and PLA.
Printrbot does offer an all metal hotend, surprisingly at a lower price than the older model. The Simple Metal is still shipping with the older design. As far as I can tell, no Printrbot ships with the newer all-metal hotend. I find this odd, not only because 'exotic' filaments that do best with an all-metal hotend are becoming much more popular, but also because an all-metal hotend is apparently cheaper to produce than the older model. If you want a foreshadowing alert, there you go. To print with exotic filaments, you'll be spending $50 to upgrade your machine.
The Printrbot does have an interesting feature bolted onto the machine right next to the hotend. This is the inductive bed sensor, or the way the Printrbot sets the Z height before starting the print. Yes, the Printrbot has automatic bed leveling, and from my experience with a Mendel, this is a godsend. Setup of the bed sensor does take some time – in my case, about an hour. Once that's done and the z probe offset is saved to the board, you're done. Provided the first layer of a print sticks to the bed, your print will come out okay.
Print Quality
For the most part, the print quality from the Printrbot Simple Metal is exactly what you would expect. For the first-time buyer of a 3D printer, it will appear magical; load an object into Repetier or Cura, press print, and a few hours later an object will appear. With a 0.4mm nozzle, you're able to lay down plastic as well as any other printer. To borrow a phrase, it just works, and the results look good.
There is, however one significant deficiency in the design of the Metal Simple. It uses a threaded rod for Z axis movement. While this was – and still is — if you look at Lulzbot and Ultimaker — the standard way of moving in the Z axis. If you print an object with tall, smooth walls, you will notice visible striations in a regular pattern. This is an artifact of the unconstrained threaded rod, and where there is a little bit of wobble, you will see faint lines in your print. You can't feel them, but they're there.
This artifact of mechanical weirdness can be reduced or even eliminated with belts or another system of linear movement; these striations are never seen in delta bots, and that's simply due to the mechanical arrangement. It seems silly to complain about a phenomena that is barely visible and extremely hard to photograph, but the effect is there.
Customer Support And Supply Chains
Ah, the part of the review where I'm an idiot. Story time: I moved my printer down to my workshop/basement/pile of old computers. I was running out of USB ports, so I grabbed the closest hub in my box 'o junk, found a power supply, and plugged everything in. Connected to the hub was my phone, a Raspberry Pi (both just for power), a Teensy, the Printrbot, and my MacBook Pro (to the host port). The power adapter I grabbed was a 12V supply. I never said I was smart.
I now have a dead Printrbot controller board – the Printrboard – due to my own stupidity. However, I do not have a dead phone, a dead Raspberry Pi, or a dead Teensy – things that were also plugged into the hub at the time of the incident. The engineering of the Printrboard meets spec, as does everything else that was attached to the hub. This illuminates what I feel is the greatest problem with Printrbot: supply chains and customer support.
After unsuccessfully trying to find the device under Windows, Linux, and OS X, I tried to re-flash the firmware; the chip was extremely dead. While this was my fault, the survival rate of other devices under the same conditions would suggest this is a problem for Printrbot. I sent a ticket into their support system, and after a little back and forth it was recommended that I could buy a new Printrboard to replace the broken one.
There's a problem with this plan. For the last three weeks, the Printrboard has been out of stock in the Printrbot store. I've signed up to be notified when the Printrboard is back in stock, and for three weeks, I've been waiting for an email.
This is not a condition that consumers face often. I would like to give someone money, but they will not take it. It's odd; the strangeness of waiting nearly a month for a replacement part – one that was suggested by a customer support tech, no less – is so bizarre that I think I need to see this through. Yes, I could replace the board with a RAMBo or RAMPS controller, but at this point I'm relishing screwed up supply chains and inventory management.
Conclusion
The headline of this review should be: "A Good Printer To Print A Better Printer". The Printrbot Assembled Metal Simple is designed to be a My First Printer™; just enough to get you in the door. Without a heated bed, you'll only be printing with PLA filament, and unless you're very good or very lucky, prints with a large base will have curled edges. This can be mitigated by printing with rafts, or by spending a weekend tuning the printer to perfection. The Printrbot will not print exotic filaments without an upgrade. In my opinion, the Printrbot Simple Metal is not a $600 printer – it's a $600 printer that will eventually require a $100 heated bed, a $50 ATX power supply, and a $50 metal hot end. For $800, you're pretty close to territory that will get you a heated bed, much larger build volume, and a Z axis that isn't driven by a leadscrew.
This is a great first printer, but if you think you might want something to grow into – especially considering the inability of Printrbot to keep components and accessories in stock – look elsewhere. If you are looking for a cheap printer to get started, remember you can just print another 3D printer. The second roll of filament that went through my machine was dedicated to i3 parts. I would highly suggest anyone buying a Printrbot to print the parts for a 3D printer within the first month.
As I was writing this review, Printrbot announced their upcoming Printrbot Play, a machine that appears to fix most of the problems mentioned in this review. In the single picture of the Play, it appears there will be a metal hotend, and there's a good chance at a reduction in Z axis wobble.
I suppose I'll be reviewing that in a few months. In for a penny…