The C.H.I.P. from Next Thing Co. bills itself as the world's first nine dollar computer. That's not a lie; their Kickstarter took in over two million dollars for a tiny single board computer with composite Video, WiFi, Bluetooth 512MB of RAM, 4GB of storage, and a 1GHz CPU. That's a complete computer, sans keyboard, mouse, and monitor. You won't get that with the $35 Raspberry Pi – you'll need to add a WiFi adapter and an SD card for the same functionality – and you won't get that with any other single board computer.
Understandably, the C.H.I.P. is already extremely successful. The company behind it has about 50,000 pre-orders, and people lined up to wait until well into next year for this computer. Exactly how Next Thing Co. managed to build a single board computer and send it out the door for nine dollars is a question that has yet to be answered, and is leaving more than a few people puzzled.
The Olimex blog has given their opinion of the C.H.I.P, and if that's to be believed, the news isn't good. The guys at Olimex know their stuff when it comes to making cheap single board computers; they have more than a few for sale, and they know what the Flash and DRAM market is like. To them, it's impossible to sell a computer like the C.H.I.P. at $9. A quote from Allwinner for a similar module is $16 at the quantity Next Thing Co. would be looking at. That's just the module with RAM and Flash – no Wifi, no board, no connectors. How could it be possible to sell this computer for only $9?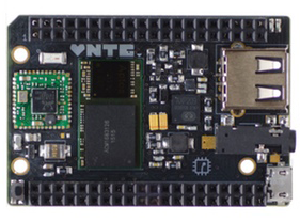 Anyone who has ever seen a Kickstarter campaign can give you an answer. The C.H.I.P. is a loss leader to build a community. Once the C.H.I.P. is shipping, the community becomes the product. The low price point is a classic technique to build excitement for and a community around a project. There are hundreds of fully funded projects tucked away deep on Kickstarter that prove this point.
From a business perspective, the C.H.I.P Kickstarter doesn't even make any sense. The original goal for the C.H.I.P. Kickstarter was only $50,000. If a business that is already shipping hardware can't find an investor or take out a loan to cover the development of a new product, one of two realities are necessarily true: either the product is an impossible pipe dream that no investor or lender would consider, or Kickstarter itself is a marketing tool to build a community.
Next Thing Co. disagrees about Olimex's $39 claim. In their latest campaign update, they say C.H.I.P. will still be $9 when pre-orders open up. As far as Next Thing Co. is concerned, they're unfazed by the conjecture of their competitor. [Thomas Deckert] of Next Thing Co. says, "I can tell you there is at least one significant error in that post by Olimex."
The basic idea of C.H.I.P. is to leverage off the shelf components – the kind you'd find in cheap Android tablets and value line smart phones – put them on a board, and get a Linux distro running. That's the basic premise of the Raspberry Pi, and that's the idea behind dozens of other single board computers available today. No company has ever done it for nine dollars. If you take them at their word, that's what Next Thing Co. will be delivering. Exactly how they'll be doing this is anyone's guess, and once these tiny, cheap computers start shipping, we'll probably learn a lot about supply chains and what's actually available from those fabulous chip manufacturers. Until then, it's anyone's guess.