Big-name corporate sponsors, top-notch judges and mentoring, 36 hours to play in a huge new hackerspace, and all the Cheetos and Red Bull you need to stoke the creative fires. Sounds like a hackathon, and it'll roll into The Tech Valley Center of Gravity in Troy, New York next month. And from the look of it, it's going to be a big deal. You should be there.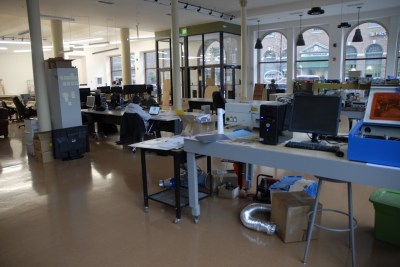 You might recall the TVCoG from a story we did this summer on the grand opening of their amazing newly renovated space in downtown Troy. Occupying an entire city block in a historic department store building and housing not only a huge hackerspace but a tech company incubator with manufacturing capabilities and a STEM outreach space, the CoG now has the room to reach out into the community and host big events. The hackathon scheduled for January 30 and 31 and is only the first of four events planned for 2016. This one has the theme "Internet of Things" and will feature SparkFun's Jeff Branson as mentor and judge.
Here's a call to arms for Hackaday readers in the northeast: let's pack this hackathon and make it huge. There's already a bunch of Jolly Wrencher stickers scattered all over from our last visit, so you'll feel right at home. Head over to the TVCoG site and sign up for this one. We'd really like to see HaD take home bragging rights. And you can be sure we'll be covering the event and bringing some swag of our own.
[Thanks to Duncan Crary for the tip!]