It is said that the first casualty of war is the truth, and few wars have demonstrated that more than World War II. One scientist, whose insights would make the atomic age possible, would learn a harsh lesson at the outset of the war about how scientific truth can easily be trumped by politics and bigotry.
Lise Meitner was born into a prosperous Jewish family in Vienna in 1878. Her father, a lawyer and chess master, took the unusual step of encouraging his daughter's education. In a time when women were not allowed to attend institutions of higher learning, Lise was able to pursue her interest in physics with a private education funded by her father. His continued support, both emotional and financial, would prove important throughout Lise's early career.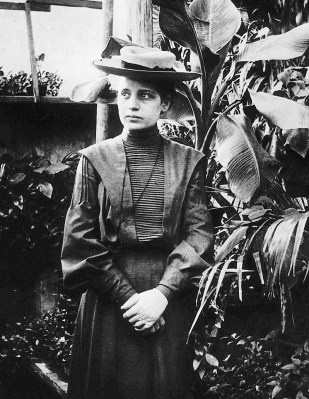 In 1905, at the dawn of a century that would become dominated by total war, Lise became only the second woman to take a doctorate degree from the University of Vienna. She began to realize the degree to which her pursuit of the truth was going to be complicated by her gender. Traveling to Berlin, she sought to attend Max Planck's theoretical physics lectures. Initially hostile to having a woman in his lectures, Planck eventually relented, and by 1912 he was such an enthusiastic supporter of Lise that he appointed her his assistant, which led her first paid job in physics.
In Planck's lab, Lise met Otto Hahn, a German chemist with whom she would partner to explore the relatively new field of nuclear chemistry. Still an outsider, she and Otto were forced to work in a basement shop with orders that she not show her face above ground, so as not to scandalize the men.
Despite this handicap, the team of Meitner and Hahn was very productive. Her physics complemented his chemistry well, and by the time World War I broke out in 1914 they had already discovered several new radioisotopes. The war hindered their efforts but did not stop them. Otto had been assigned to a German gas warfare division; Lise was volunteering with an army X-ray unit. Whenever they could get leave at the same time they would get together to work on experiments.
A Ring and a Prayer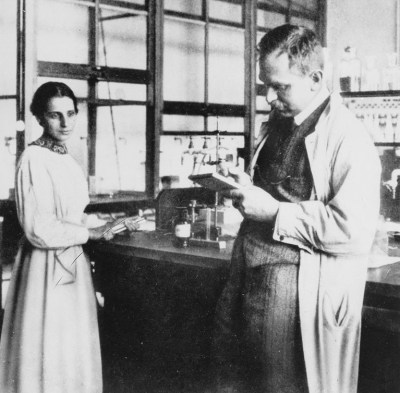 In a period of changing attitudes between the wars, Lise was finally allowed out of her basement labs and eventually became the first woman in Germany's history to be named a full professor. She also became a department head by 1935, but by then war was again brewing. Adolf Hitler had come to power in 1933 and began his purge of Jews from academia. Lise, with her Jewish heritage, knew she was at risk, but as an Austrian citizen was protected from Nazi racial laws, and ignored the warning signs.
By 1938 and Hitler's Anschluss of Austria, it became clear that Lise was in danger, and plans were hastily assembled to get her to safety. Otto helped her pack for what would be a perilous trip to Holland without a valid passport, giving her a diamond ring that she could use as bribery at the border. Luckily it wasn't needed – she made it safely into Holland and eventually to Sweden, never to return to Germany. She got a post in Stockholm and restarted her life's work in exile.
The 1930s were an exciting time in nuclear chemistry. The neutron had only just been discovered, and researchers were eagerly using it to probe the structure of the nucleus. It was once thought that bombarding heavy elements with neutrons could only produce new, heavier elements, and radiochemistry labs around the world were gleefully shooting neutrons at whatever targets they could find. But experiment after experiment with heavy elements yielded a puzzling result: lighter elements were appearing rather than yet heavier elements. Nobody could make sense of this: how could adding massive neutrons result in light products instead of heavier ones?
Back in Berlin, Otto Hahn and his new partner, Fritz Strassman, had uranium in the target block of their radium-salt and beryllium powder neutron source, and they undertook careful chemical separations of the products. At first, Hahn was convinced that they had produced radium, but after continued and increasingly purer chemical separations it was clear that barium was being produced. Radium could be explained – the loss of two alpha particles from uranium, atomic number 92, could result in radium, atomic number 88. But barium, at atomic number 56, was only a little over half uranium's size. What could possibly be going on?
A Walk in the Woods
Nothing in Hahn's chemical background could explain what he was seeing. He needed a physicist's take on his data, so he posted a letter to Lise Meitner in Stockholm with his puzzling results. It was December of 1938, and Lise ruminated on Hahn's results during her Christmas vacation with her nephew, the physicist Otto Frisch, also forced to emigrate from Germany. They excitedly discussed Hahn's letter during a walk, trying to come up with an explanation for the barium.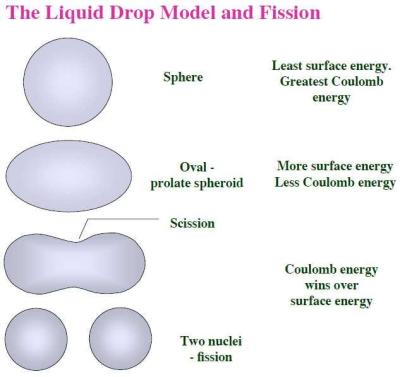 Lise and her nephew sat on a log and sketched out mechanisms, imagining the uranium nucleus as a wobbly, barely stable sphere. A neutron striking such a target would add energy that would start an oscillation and randomly elongate the nucleus. Eventually, the strong nuclear force, which acts only at short distances and holds the nucleus together, would be overcome by electric repulsion of the two ends of the lengthening nucleus. A waist would form in the nucleus, which would now take on a dumbbell shape. The strong nuclear force would again become dominant in each end, and two new, stable nuclei would pinch off.
Lise immediately realized that the two nuclear fragments, barium and krypton, would be forced apart with tremendous energy by mutual repulsion – a quick calculation showed it would be 200 mega electron volts from a single uranium nucleus – enough to visibly moved a grain of sand! In the course of their walk in the woods, aunt and nephew not only provided the theoretical underpinnings of what Hahn had observed but also explained why no elements past uranium could exist naturally.
Publish and Perish Anyway
With observations and explanation in hand, a flurry of papers was published in early 1939. Hahn and Strassman published their barium results and quickly followed up with an explanation based on Lise's insights, which she had discussed with him after her walk with Frisch. Shortly thereafter Meitner and Frisch published their results, which Frisch had just confirmed experimentally. The three papers electrified the radiochemistry community and became the basis for all that was to follow in the turbulent 1940s, starting with Einstein's famous letter to FDR that kicked off the Manhattan Project and ending with Hiroshima and Nagasaki. Of the authors of those papers, only Otto Frisch, who had coined the term "fission" after discussions with a microbiologist, would go on to work directly on the bomb; Lise Meitner was offered a job at Los Alamos but refused, saying that she'd have nothing to do with building a bomb.
In 1945, Otto Hahn was notified that he alone would receive the Nobel Prize in Chemistry for his discovery of nuclear fission. No mention was made of Meitner and Frisch's contribution, nor Strassman's for that matter. Much has been made of the snub, with understandable assumptions of sexism and politicization behind the decision to honor only Hahn. But once the Nobel committee records were unsealed in the 1990s, it became apparent that the chemists reviewing the nominations were ill-equipped to evaluate interdisciplinary work, and just didn't see the importance of Meitner's key insights. It's true that Hahn himself never gave a lot of credit to Lise; in his defense things might have been difficult with his employers had he made it publicly known that he was collaborating with an exiled Jew.
When the political climate was a little more favorable, Hahn tried putting things to right. He himself submitted Lise's work to the Nobel committee ten times, but she was continually overlooked. Lise Meitner was eventually awarded the Enrico Fermi Prize in 1966 along with Strassman and Hahn. She was also named Woman of the Year in 1946, received dozens of scientific honors, and held many high-ranking posts in the science community. And in perhaps the ultimate honor for a nuclear physicist, element 109 was named "meitnerium" in 1997. It is the only element named after a non-mythological woman.
Despite all that had transpired between them, including some harsh letters from Lise taking Otto to task for continuing to work with the Nazis, they remained close friends for the rest of their lives. Lise died in 1968, shortly after Otto passed. Her tombstone in Cambridge, England simply reads, "Lise Meitner: A physicist who never lost her humanity."