If DC motors are the "Hello World" of making things move, servo motors are the next logical step. [Simone Giertz] is following this exact path with the Wake-up Machine and her newly released Chopping Machine. [Simone] discovered that the best way to wake up in the morning is to be repeatedly slapped in the face by a robot. The Wake-up Machine was custom designed to do exactly that. Who could sleep through being repeatedly slapped in the face? A beefy gearmotor from ServoCity spins a Halloween prop arm round and round, providing  "refreshing" slaps.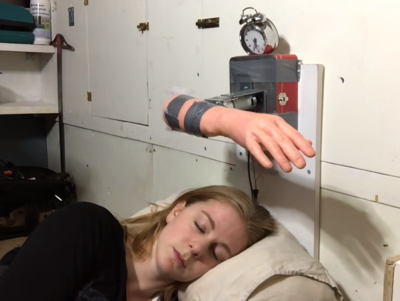 The system is triggered by an alarm clock. The clock's alarm output is connected to an Arduino Uno. The Uno then activates a relay, which spins up the motor. [Simone] realizes that she could have skipped the Arduino here, but it was the path of least resistance in for this project. If the slapping hand isn't enough to get you going, the Wake-up machine does have a secret weapon: It may just grab your hair, turning a video shoot into a painful ordeal.
Simone's latest project is the Chopping Machine. ServoCity must have liked her first videos, as they've sponsored her for this project. The machine consists of two knives that … well, chop. Two high-powered servos are controlled by an Arduino Nano. The servos raise spring-loaded knives, which then drop down, chopping vegetables, fingers, and anything else in their path. The whole machine is built with aluminum channel stock, and a huge wooden cutting board. Of course, just building the machine wasn't enough. [Simone] filmed a parody infomercial for any perspective Chopping Machine buyers, and to put fear in the heart of anyone named Chad.
Click past the break for a couple of [Simone's] vlogs describing the machines.