We think of digital communications as a modern invention. But the reality is that semaphores, smoke signals, and Aldis lamps are all types of digital communication. While telegraphs are not as old as smoke signals, they, too, are a digital mode. The problem with all of these is that they require the operator to learn some kind of code. People don't like to learn code because it is difficult, and employers don't like to pay high wages to trained operators.
In the late 1830s, a man named William Cooke proposed a complex telegraph to a railway company. The company didn't care for it and asked for something simpler. The railway didn't like that either, so Cooke joined up with Charles Wheatstone and patented something that was a cross between a telegraph and a Ouija board.
Text by Needles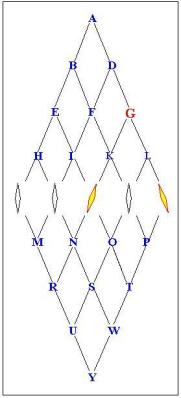 The Cooke and Wheatstone telegraph used multiple needles–the patent used five needles as an example. The needles were magnetic and could be made to turn to the right or the left by way of an electromagnet. Above and below the needles were a pyramid of letters (see figure to the right). When the needles moved, they would both point to the letter (the figure shows the two yellow needles pointing to the letter G).
You can learn to read this code very quickly, but the system required one wire for each needle. The really cool feature is that since only two needles need to turn, and they turn in opposite diretions, current flowing through one needle's wire and returning via another's handles the problem with just one active current loop. Some systems had an extra wire to serve as a return so you could move any needle separate of the others.
Great Western Railway was the first to use one of these unique telegraphs, with a span of 13 miles in 1838. You might notice that because the number of letters available is only 20, some letters aren't available (in particular, C, J, Q, U, X, and Z). This required creative spelling in some cases.
Hung by Telegraph Wire
For example, a story that caught the public's attention in 1845 was when a murder suspect, [John Tawell], was arrested thanks to the telegraph. Tawell boarded a train at Slough to avoid authorities. The telegraph carried the message:
A MURDER HAS GUST BEEN COMMITED AT SALT HILL AND THE SUSPECTED MURDERER WAS SEEN TO TAKE A FIRST CLASS TICKET TO LONDON BY THE TRAIN WHICH LEFT SLOUGH AT SEVEN FORTY TWO PM HE IS IN THE GARB OF A KWAKER WITH A GREAT COAT ON WHICH REACHES NEARLY DOWN TO HIS FEET HE IS IN THE LAST COMPARTMENT OF THE SECOND CLASS COMPARTMENT
Since there was no J, JUST became GUST and the lack of Q required the spelling of KWAKER. The message and the arrest became quite famous, and the instruments that carried the message wound up in the Science Museum in London. The video below from ARM shows a display from the museum about the telegraph.
Next time you send some text over a TCP socket using an ESP8266 between two Arduinos, just remember that people have been hacking digital messages for centuries. We tend to think of hacking as having to do with sophisticated technology, but the hacker spirit will work with whatever presents itself–from fire and smoke signals to magnets and needles, to silicon and square waves.
If you long for the old days but still want to read e-mail, you might try this project. Then again, there's always Twitter.
Cooke-Wheatstone Needle Diagram By Wrrglla [CC BY-SA 3.0]
Photo of Telegraph By Geni [CC BY-SA 4.0-3.0-2.5-2.0-1.0]