One of my favorite conversation from Saturday's Hackaday | Belgrade conference was about border crossing. This guy was saying the border station coming into Serbia needed a separate lane with the Skull and Wrenches on the digital sign since it was obvious the two cars in front of them were also packed with people coming to the con (and all the custom hardware that travels with the Hackaday crowd). The thought of caravans full of hardware hackers were on their way to this epic gathering.
We packed the place, selling at least 50 tickets past our limit in the last few weeks to people who just wanted to get in and didn't mind not being able to get their hands on one of the sweet badges. I recall meeting people who came from Romania, Bulgaria, Greece, Slovenia, Spain, Italy, Switzerland, USA, Germany, France, UK, and of course Serbia. If you were there and I missed your country let us know in the comments.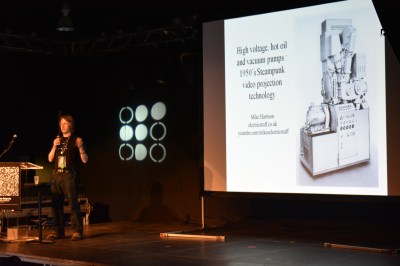 Obviously the main event is the incredible slate of talks that happen at our conferences. We had great presenters at last November's SuperConference — our first every conference — so we're delighted to say that our second was just as good. (We anticipate a third this fall.) Hackaday is so thankful for all of the speakers who donated their time and talent to share their knowledge and experience with our worldwide community.
Among my favorites were Seb Lee-Delisle's talk on his many huge laser and projection mapping installations, Mike Harrison's drilldown of the absolutely stunning engineering that went into Eidophor projector systems, Dejan Ristanovic's fascinating talk about the on-again off-again history of Internet in Serbia, Sophi Kravitz's collaborative work with polarizing materials, and Voja Antonic's talk on the many trials of designing the conference badge which cleared out the world's stock of more than one type of Kingbrite LED modules. If you missed the live stream of these talks don't worry, we recorded all of them. It will take a bit of time to edit and post them so keep your eyes on the front page.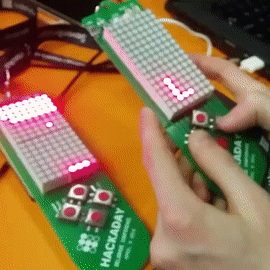 Badge hacking was once again spectacular. This was our first electronic badge — a PIC-driven creation of Voja Antonic which included an 8×16 LED display, five user buttons, and IR TX/RX. The badge came pre-loaded with Voja's assembly-coded demo with scrolling messages, and Tetris. The messages could be customized using the IR station he built for the event.
The setup included a USB bootloader so that you could easily flash your own code to the badge and there was a lot of that happening all day long. One of the last minute additions to the con was Voja's crypto challenge which took the first group about two hours of work to crack. The general badge hacking competition happened on stage just before midnight and we'll have a dedicated article about all of those hacks soon. Thank you to Microchip for donating the microcontrollers for the badges.
Talks concluded just after eight p.m. and we moved on to a first-ever at a Hackaday event: live music! First up was Infinite Jest, a five-piece group who immediately got the crowd pumping. They were followed by Grupa TI, whose electro-pop has a full sound that I'm still surprised is possible with just two musicians. After the badge hacking presentations, legendary DJ Boza Podunavac kept us going until three in the morning. Luckily, Belgrade night-life never stops and we were able to find a great gyro before heading to bed.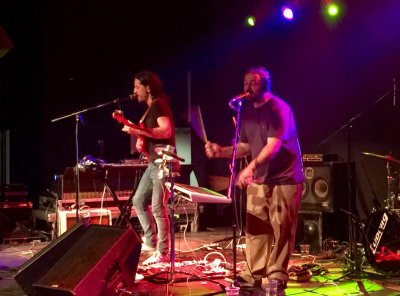 Hackaday Belgrade was held at Dom Omladine Beograda and it was perfect! There was a large common area which had a coffee bar, meal and snack setup, fresh juices and water, local beer on tap, coat check (this is not to be undervalued!), and plenty of room to socialize. The talk space had plenty of room for comfortable chairs, high-tops down one side, and a stage that was high enough with a big screen so every seat in the house was a great one. Off the other side of the common area was a large work room used for the workshop, and packed the rest of the time with badge hackers.
All of this ran smoothly thanks to amazing planning and day-of work by the Supplyframe engineers who are based in Belgrade. We also had great event staff from the venue, include audio and video engineers who made sure the presentations were seen and heard without issue.
It was important to us to keep conference ticket prices as low as possible — we set them to just cover the production cost of badges. We couldn't have had a conference this amazingly successful without the support of Supplyframe, and two other companies that also have a large Belgrade presence: SevenBridges and Vast. These companies share the values of the Hackaday community. Thank you for partnering with us to make Hackaday Belgrade an enormous success!
Do you want the next Hackaday conference to happen in your city? Start by showing how active the Hackaday community is in your area. Start your own Hackaday Meetup and take part in Hackaday World Create Day on April 23rd.