A few weeks ago we ran an article on the benefits of accelerator programs. While I agreed with almost everything in it, the article still bothered me, and I wanted to start a discussion about when an accelerator is not appropriate. So many startups are regularly asked "have you thought about Kickstarter? Shark Tank? Are you raising money? YCombinator?" These questions are constantly ingrained into people's brains and they come to think those are the only options.
The reality is that there are lots of ways to build a company, and Kickstarter, Shark Tank, angel investors, and accelerators are all new within the last few years, and they aren't right for many people. So let's look at when an accelerator is right for you.
The absolute first decision is based on where you see the company going. If you want a mom-and-pop business making your own products in your basement and making a comfortable and sustainable living for you and your family, then an accelerator is a poor choice. Accelerators take a cut of equity in the company, which means they expect two things: that the company will grow big, and that they will have an opportunity to recoup their money (called an exit event, and it usually means either an acquisition by a larger company, or an IPO). If you don't see both of those in your future, don't bother applying.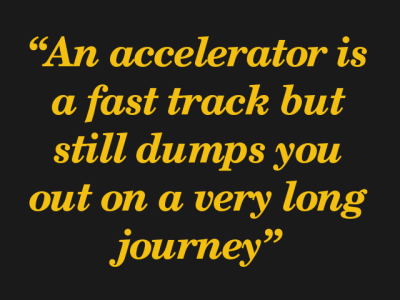 Commitment to the cause is another important factor. An accelerator is a fast track but still dumps you out on a very long journey. Is this a project that you want to dedicate not just the next three months but easily the next three years? Growing a company is hard and takes a long time, and an accelerator makes certain assumptions about the rate at which you will grow and the amount of passion and dedication that must go into this venture. You hacked together a bike lock and want to take it to market; are you ready to make bike locks your thing for the next three years?
Quality of a particular accelerator is a huge consideration as well. A lot of them just aren't that great. This is an age where investors collect startups like sports cars and an accelerator is a chance for them to fill their garage with ease. So when they make promises of access to resources and investors and mentors, it would be wise to investigate their ability to follow through with those promises, including contacting participants from previous classes. This is such an important piece of advice that it merits repeating: previous classes will be more than willing to tell you about their experience and what went well or not and how one can prepare to take full advantage of the accelerator. Besides being weak, sometimes they are focused on a specific type of startup. Some only accept hardware startups, others only medical startups, et cetera. If your company doesn't fit, don't pivot or lie just so you can get accepted. It's disingenuous to the accelerator, but it's possibly more harmful for your company if you end up following a path you only halfheartedly believe in.
Realistic growth should be evaluated. An accelerator will get you to think about production in the thousands or millions, but that's not always wise for a startup, and very rarely works out well. Consider the trajectory of every major kickstarter project, and you'll see a trend. First they develop a prototype and test it, they go through a few revisions, they make a few dozen devices, talk to a manufacturer or two about their Bill of Materials and assembly cost, then use those numbers to run a campaign and are on the hook for a few thousand or more units. That's when the battle begins as they discover that their design isn't holding up and component sourcing, molds, assembly line issues, certifications, even shipping issues, and all sorts of other problems are delaying them. Then when (if) they ship, the products usually have defects, and in some cases require firmware upgrades immediately out of the box.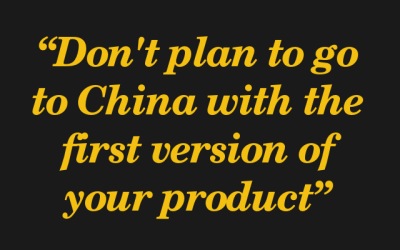 By this point the Kickstarter campaign has exhausted its cash and has tried raising investor money to keep the company going. So how do you get around this, save the company, and please customers enough that they'll give V2 a shot? Don't plan to go to China with the first version of your product. Figure out how you can manufacture it yourself or locally, in small-ish batches. It will cost more to make, but you'll be able to quickly refine your product to make it easier to manufacture and assemble, develop the tracking and support and testing tools, and work through the issues in small volumes that would eventually kill you in large volumes. Big launches usually result in big failures; if you can develop a product that is flexible enough to be built cheaply and locally, even at the cost of aesthetics, your company will have a higher chance of success.
If all you have is an idea, you're not ready for an accelerator. If you have a design that's completely ready for manufacture and all you need is partners and money, then you're probably ready for an accelerator. If you have been manufacturing for a while, have sales and customers and are just looking to grow, an accelerator probably isn't right for you. If you've gone through an accelerator before, even if it was with a different idea and a different startup. you probably don't need an accelerator anymore.
An accelerator is like a bootcamp for building a business and getting a product ready to manufacture, so if you don't have a product, you're not going to be able to take advantage of the opportunity to get it ready for manufacture. And if you already have a business and manufacturing, the accelerator won't have much to offer. While some people may need to go through a bootcamp twice to refresh their memory, for most once is enough and they will be perfectly capable of repeating the formulas and tapping on the network of people and manufacturers they established the first time through.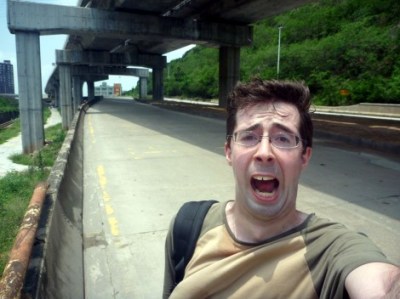 All these slices leave us with a pretty narrow definition of when an accelerator is appropriate for someone. Naturally it's important to research an accelerator carefully to see if your needs align with their offering. Some may be better at just the capital acquisition and networking with little focus on design for manufacture, others on finding customers or potential acquirers. Certain characteristics are essential, though, for you to feel good about the decision to go through an accelerator. If you're dedicated to the project, you really believe that it will have explosive growth and eventually an exit, you have a product that has been tested and works well and just needs some tweaks and preparation for mass production, and you need a network of resources that can help you get all the other things, then maybe you should give it a shot.
My personal experience in this topic may have biased my position quite a bit, but I think it's relevant, so I'll briefly disclose. As a sole founder, I was in the first class of HAXLR8R with my company Portable Scores. We spent three months in China before launching with a pitch event in San Francisco. My company failed for a variety of reasons but partly because I had a design that could really only be produced in large quantities but I couldn't bridge the gap and get those sales. In its first year, HAXLR8R had over promised and under delivered, but subsequent years have reported significant improvements, so my experience is more a statement about an accelerator's first year and not so much about HAX specifically.
My second startup attempt was BlueTipz, and for that one we were able to bootstrap it ourselves with a minimum viable product that we could manufacture cheaply and locally using high school students. We were able to get the product developed and on shelves in only a few months, and sold a few thousand units in the first season of sales. After that we had a proven market and a proven product (with a plan for upgrades and new features based on feedback from paying customers), and finding investment to grow the business and fund larger purchase orders was a lot easier.