Lots of solutions have been proposed and enacted for multi-color and multi-material 3D printing, from color mixing in the nozzle to scripts requiring manual filament change. A solution proposed fairly early on was to manually splice the filament together, making a custom spool. The printer would print as normal, but the filament would change color. This worked pretty well, but it was tedious and it wasn't entirely possible to control where the color change happened on the model.
You'll find some examples of the more successful manual splicing hacks in the pictures below. Scroll down a bit further to find our interview with Mosaic Manufacturing at Bay Area Maker Faire 2016. They have a new product that automates the filament splicing process with precision as the ultimate goal. It unlocks a single extruder printer to behave like a multi-extruder model without stopping and starting.
Mosaic pulled off a very difficult combination of two methods mentioned above. Their flagship product is a machine they've dubbed, "Palette". It's an automatic filament splicer. Up to four different filaments can feed into Palette, and it will splice them at determined intervals. This would be cool by itself, if only to save the tedium of splicing and winding a custom spool by hand.
The real killer app with Palette, however, is the software that runs alongside it. Palette can take the GCODE output of any properly prepared multi material file from any slicer, and then precisely combine and splice the filament. This can feed into any printer without modifying it, aside from sticking an encoder somewhere in the filament path. The results are indistinguishable from a dual, or quad extruder set-up.
Now, it's not really a reduction in complexity from a multi-extruder set-up. In fact, one could argue that it's more complex in some ways. Then again, one only needs to look at the abomination that is ORD Solutions 5-extruder 3D printer to see, if not the light, at least a gentle glow.
If we make a quick comparison between the two solutions we can see some advantages and disadvantages for both. The biggest disadvantage for the Mosiac is that the materials have to be fairly close in properties. For example, it probably wouldn't work to splice polycarbonate and Ninjaflex together. A multi extruder set-up allows for more variation between the filaments, as well as different extruder set-ups entirely. For example, it's entirely possible to have a .4mm nozzle for printing the body of an object and then have a second extruder with a .2mm nozzle to put down the fine-detailed text on top of a print.
The biggest advantage is the integration with the printer's existing extruder set-up. Consider a delta-printer. In order to print nicely it typically requires a bowden set-up for the lightest extruder assembly possible. To add five nozzles to the end of a delta would have terrible results. It would vibrate and print terribly with lots of ringing, and eventually, destroy itself in the process. Mosaic simply sits in front of the extruder-cold end, where the filament usually comes in, and does its thing. This holds true for a regular printer too, the lighter the extruder the better.
For most users, the Palette will fit their needs. They can add it on to any printer in their shop, and get color and material mixing. As Mosaic shows in this video, since PLA is filled with just about any fiber and dust manufacturers can get there hands on these days, you can even do conductive paths within a PLA case.
It was a pretty big challenge to get the Palette to work. Building the automatic splicer was one challenge. Anyone who's 3D printed knows how finicky printers can get about filaments with diameters just a little bit too large.  Mechanically the Palette is fairly complex. It draws in up to four different filaments, measures them, and splices them exactly. It then feeds the newly made filament out to the printer.
They quickly found, that even though the filament was splicing properly, the prints were coming up malaligned. It ends up that most printers are extruding a different amount filament than they claim to. It's really hard to get a printer perfectly calibrated so it extrudes only the expected amount of filament. Their solution to this is the, "Scroll Wheel." As mentioned before, this is just a rotary encoder that sits on the exit end of the mosaic, as close to the printer's extruder as possible. The Mosaic uses this to calibrate its splicing points depending on how the printer is performing.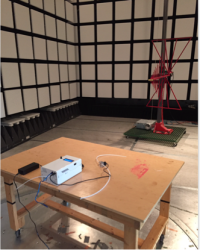 As for the previously mentioned software stack, Mosaic has decided to open source it. They have a core demographic they are catering to, but people kept coming up with cool uses for the tool, if only they could hack the firmware for it. So, Mosaic did what every company should do, and let them hack.
Mosaic has already successfully Kickstarted their product and they've even shipped the first promised units. If you'd like one, they're taking pre-orders for post-Kickstarter units. For more information we highly recommend reading through their blog, which documents their entire process from design to manufacturing. It's a great read and even goes over less covered aspect of consumer manufacturing, like getting your product certified. It's a cool product and the level of polish shows just how real the industry is getting.