It sounds like a headline from the future: the weekend before Thanksgiving, a bulldozer came for the first example of a printed home that was supposed to help the housing crisis in the city of Muscatine. Fortunately, it hadn't been completed and sold yet.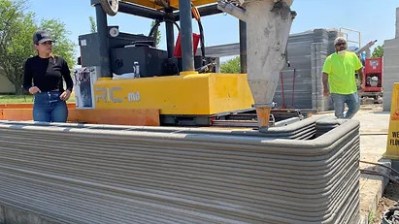 Printing of this first house began in May 2023, and nine more were to be completed by the end of the year. Unfortunately, when tested for compressive strength, the cement mixture this first home was printed out of failed to meet the 5,000 PSI minimum required for the project. Rather than compromise on safety, the parties involved decided to knock it down and start over.
The goal now is to find out why the mixture, which met the strength requirements in laboratory testing, didn't behave the same on-site. Currently, the plan is to start building the originally-planned second house in the spring, and begin construction on this first site after that.
The project is a collaborative effort between the Community Federation of Greater Muscatine (CFGM), Muscatine Community College, and Alquist 3D. Want to know more about the state of 3D printing when it comes to housing? Check out our handy guide.
Editors Note: The initial post initially indicated that the failed cement mixture contained hemp, but that has since found to be incorrect and the post has been edited accordingly.
Continue reading "Iowa Demolishes Its First 3D Printed House" →