Kate Reed has a vision for elevating the less talked about parts of ourselves, and of society. Through her art, she wants people to think about a part of themselves that makes them feel invisible, and to anonymously share that with the community around them. The mechanism for this is Invisible, a campaign to place translucent sculptures in public places around the world. The approach that she has taken to the project is very interesting — she's giving the art away to empower the campaign. Check out her talk from the Hackaday SuperConference.
Kate is studying as part of the Brown/Rhode Island School of Design dual degree program. When conceptualizing Invisible she set some pretty clear goals for herself. It needs to be something that is more than just functional, it must grab the attention of anyone passing by, and upon further inspection, the function needs to be apparent without having to read instructions or be told by other users.
The human body is a great place to start. By nature, our eyes are drawn to other people, so a statue of a person is a natural draw for the eye. To accompany the gist of the campaign she wanted a sculpture that is itself invisible. Clear acrylic serves that purpose, and interesting, as people write their thoughts on paper and drop them into the sculpture it becomes less invisible with each contribution. Neat!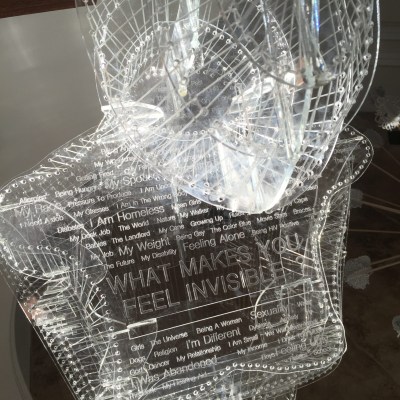 To give the project reach, Kate hopes that Invisible will go viral. The key to this is inclusion — anyone is welcome to download Kate's design files and build their own. But availability is but one trait that helps deliver access. It must also use easily sourced materials, be inexpensive, strong, and weather resistant for outside use. Laser-cut acrylic serves all of these purposes. To give it strength, the frame is wrapped with plastic wrap, but Kate has also designed a version that uses elastic cord to stitch the pieces together.
The cost to fabricate one sculpture is about $100 and this design meets all of her goals. It makes me think of the Little Free Library project — a welcoming and fun movement where small weather-resistant bookshelves are built and installed throughout the community. It encourages interactions beyond the small sphere of people you regularly interact and builds goodwill throughout the community. Invisible looks to the same benefits, to add something you'll notice in your daily life while helping to encourage interaction in real life.