A few weeks ago, I was browsing Tindie on one of my daily trawls for something interesting to write about. I came across something I hadn't seen before. The Mensch Microcomputer is a product from Western Design Center (WDC) that puts a microcontroller based on the 65xx core on a small breakout board.
I've played around with some of WDC's tools and toys before, back when the sent me a few dev boards to review. They're cool, and I have considered building a little breakout board for this weird cross between a microcontroller and a system on a chip. Life gets in the way, and that project sat on the shelf. The Mensch, however, was cheap and well into impulse purchase territory. After buying one, one of the VPs at WDC asked if I'd be interested in doing another review on their latest bit of hardware. Sure. I got this.
A Brief Overview of the WDC Catalog and Why It Matters
Western Design Center is the bearer of the 65xx series of CPUs, and the related peripheral chips. If you've ever used an Apple II, Nintendo Entertainment System, an Atari 8-bit, a Commodore 64, a Tamagotchi, or met Bender Bending Rodriguez or a T-800 Terminator, you've run into a 6502 or something that's sufficiently similar that any differences are academic.
The 65816, the follow-up chip to the 6502, can be found in the Super Nintendo and the Apple IIgs. This chip is odd; on startup, it is a 6502. Flip a bit in the register with two instructions and you have 16-bit registers, 24-bit address space, and a bunch of other goodies that you can't fit into 3,500 transistors. The '816 is one of those chips that would have changed the world if it came out a few years earlier, but that's a story for another time. If you want to build your own 6502-based single board computer, I would highly suggest you take a look at the 65816.
The days of Nintendos and Commodores and Ataris running a 6502 are long gone, but the 65xx ISA is still out there. It's found in everything from toys to life support equipment to aerospace, and if you want to play around with these devices, you'll need to learn some 6502 assembly. Want proof? The greatest hack ever – [Sprite_tm]'s Matrix of Tamagotchis – is just a server emulating a few 6502 cores.
These weird devices obviously aren't using full DIP40s and the related support chips. Instead, they're either using custom ASICs with licensed 65xx cores or one of WDC's microcontroller offerings. The 65C134SXB (based on the '02), and the W65C265SXB (based on the 65c816) are small chips at the intersection of a microcontroller and a system on a chip. This brings us to WDC's latest offering, the W65C265WBX, or the Mensch microcomputer.
Digging into the Mensch
The Mensch microcomputer is built around the 65C265, itself a microcontroller built around the 65816. This is a small board, with only the microcontroller, a few passives, eight LEDs, and a few headers. Effectively, this is a breakout board for WDC's '816-based micro, with only the bare minimum required to get the thing going. What we're really looking at here is a cut-down version of the '816 microcontroller development board I took a look at a while ago.
Consider this a breakout board for the 65C265. On board, you have a full '816 core, a monitor ROM, a little bit of RAM, several serial ports, a bank of LEDs, and access to 16 address lines and 8 data lines. If you want to develop for the 6502 or 65816, that's all you need. If you want more RAM, just grab some perfboard and wire it in. If you want to build a pocket-sized SID player, build a 'shield' for this tiny development platform.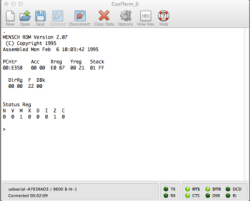 Compared to its full-size brethren, the Mensch is not as capable. The W65C265SXB – the larger microcontroller development board based on the same chip – has 32kB of SRAM on a separate chip, a socket for a Flash chip, and a USB to serial converter on board. This is the cost-reduced version of WDC's microcontroller offerings, though, and anyone who would want to build something with a 65xx core probably already has a USB to Serial converter sitting around.
The monitor ROM is exactly what you would expect, granting access to the chip via a terminal emulator. Here, you can input machine code, jump to an address, and let LEDs blink to your heart's content. You can use Python to talk to this board. If you've ever wanted to play around with 65xx chips, this is the board for you.
Conclusion
When I reviewed WDC's slightly more capable offerings, I lamented the cost of these single board computers and microcontroller development boards. Yes, they're the best way to play around with the 6502. They are, arguably, the best way to learn assembly. This is a world of two dollar Arduinos, though, and it's hard to compete on price especially with an American made and assembled board that doesn't contain counterfeit chips.
Still, I applaud WDC's efforts to get their chips in the hands of more hackers. There's still a lot of cool stuff you can do with a 6502, and if some of these young hackers end up going into industry they'll probably come across the 6502 core at some point in their career. This is a CPU core that just isn't going away, even though dying caps and corroded contacts means our Apple IIs and Commodores are. This is a great little board, and I can't wait to see what kind of projects will be made with it.