I normally stay away from talking about x86 single-board computers because I don't have a lot to say about them. They're too expensive, and run too hot, to be interesting. Enter the new UP Core funding now on Kickstarter.
The UP Core is just 56.5 mm × 66 mm (2.2 in × 2.6 in) and powered by a 64-bit Quad Core Intel Atom clocked at either 1.44 GHz or 1.92 GHz. It will ship with either 2 GB or 4 GB of RAM, and either 32 GB or 64 GB of eMMC. The board has a USB 3 port, HDMI, DSI/eDP, and two MIPI-CSI ports supporting either a 2 MP or 8 MP camera. It has both WiFi 802.11 b/g/n and Bluetooth LE built-in.
In other words it's powerful enough to serve as a desktop PC running Linux, Android, or a full Windows 10 installation. The cheapest UP Core configuration—with 1 GB memory and 16 GB eMMC—is €69, or around $75.
Connectivity
On the underside of the board there is a 100-pin I/O expansion connector carrying UART, SPI, two USB HSIC, PCI-Express, Intel Sensors Hub, SDIO, and GPIO.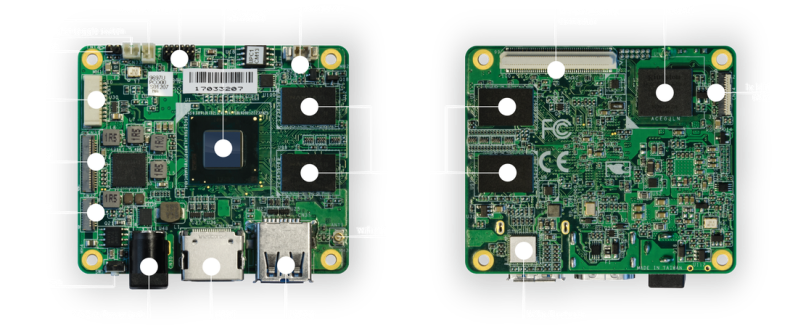 To connect to this bus you can add one (or two) expansion boards to the Kickstarter pledge. The first board exposes high-speed signals such as PCI-express, Gb LAN, and USB 3.0. The second exposes low-speed signals such as RS-232/422/484, I2C, I2S, and GPIO. However, and perhaps somewhat more interestingly, if you design and build an expansion board and it is selected by the UP Community, you will be entitled to royalties on your board which will then be sold in the UP Shop.
Which sounds quite a lot like the concept behind the littleBits BitLab which opened back in 2014 as an "app store" for user-generated hardware to a great deal of interest among makers, and closed to a lot less press at the tail end of last month.
You can still buy the littleBits hardware development kit, around which BitLab bit development was based, but without the chance to market your own littleBit to the community. The bitLab, and a couple of other examples, have proved that operating a platform-specific marketplace is actually a lot harder than it seems.
Choices, Choices
The UP Core isn't the first board from the same manufacturer to fund on Kickstarter. The original UP board came with a Raspberry Pi 2 form factor, and funded on Kickstarter back in 2015. It's now in general distribution through Mouser. Following that, the manufacturer came back to Kickstarter with the UP Squared, which funded last year and shipped at the end of last month.
The cheapest UP board which had an 1.9 GHz Intel Atom was €89, which is around $100. The cheapest UP Squared which shipped with a 2.4 GHz Intel Celeron was similarly priced. However the original UP board now retails on Mouser for €155.69, which is more like $175 than $100. That's quite a price hike, and I'm assuming we can expect a similar one when the new UP Core enters normal retail channels. Although the boards do seem to be on offer on the UP shop in a staggeringly confusing number of configurations with price points ranging from $89 all the way up to $299.
Will It Fly?
This is one of the problems I have with the UP Core. Sometimes too much choice isn't a good thing, and as many Kickstarter project creators have learned giving backers that sort of choice can lead to problems. There's a reason why Apple doesn't give you much room to configure your MacBook, and there's only a handful of Raspberry Pi models on the market.
The departure from the original Raspberry Pi form factor may also be a problem. As the success of the ASUS Tinker board has shown, to beat the Pi first you have to build a better one, and right now I think the UP Core's main competition is the slightly cheaper ARM-based ASUS Tinker board rather than the much cheaper and ubiquitous Raspberry Pi.
In a very price sensitive market, you can buy a cheap tablet for the price of the UP Core after all. At $75 the UP Core may just be too expensive for the average maker to start tinkering with it. Unlike a lot of x86-powered single-board computers I actually think this one is sort of interesting, but these days it takes very little computing to be good enough.
At this price point you have to wonder whether the UP Core is too much computing for most people. Why pay for faster computing you're not going to need, and why pay $75 for a single board computer, when you can buy a whole laptop for $89?