The PDP-11 is perhaps the most important computer in history. This was the king of all minicomputers, and once you get past the amazing front panels of the 11/20, 11/40, and 11/70, you'll find PDP-11s everywhere. Heathkit sold one. It was the smallest computer that could run Unix. There were desktop versions sold as DEC Professionals. I have been told Ticketmaster — the entire backend of all event ticket sales in the United States — still runs on PDP-11s.
One of the interesting bits of the PDP-11 is the miniaturization that happened over the course of its development. Over time, the Unibus processor cards of the earlier models were shrunk down into a single chip. This PDP-on-a-chip was then cloned by the Soviets, and like most vintage Eastern European electronics, they're all readily available on eBay.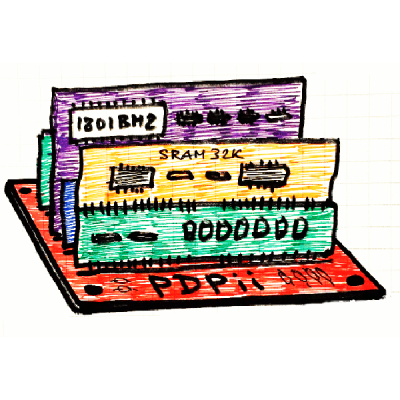 For his Hackaday Prize entry, [SHAOS] is taking one of these chips and turning it into a modern machine. The PDPii is a project to bring the PDP-11 back to life in the form of an Open Source motherboard with a Mini-ITX motherboard. Is it game-changing? No, not really; you could buy a desktop PDP-11 thirty years ago. This project, though, is taking new old stock chips you can buy for ten dollars and turning it into something resembling a modern system. Finally, Ticketmaster can upgrade.
The design of this project doesn't quite meet the spec for the Mini-ITX form factor; it's based off the RC2014 backplane Z80 computer, but desktop computer cases are cheap, as are power supplies, and I'm sure someone out there knows how to fit an eight inch floppy in a five and a quarter inch hole.
The key feature for this Mini-ITX backplane PDP-11 is a redesign of the Q-bus found in later PDPs to something that's a bit smaller, a bit cheaper to manufacture, and still has all the relevant pins accessible. With some reconfiguring of the baroque DEC standards, [SHAOS] came up with the Bread-Board Friendly Q-bus Extended, or BBQ-Bus+. The next step for this project is gathering up a few PDP-11 compatible Russian КР1801ВМ2 CPUs and going to town on the architecture of what is probably the most replicated computer design ever.