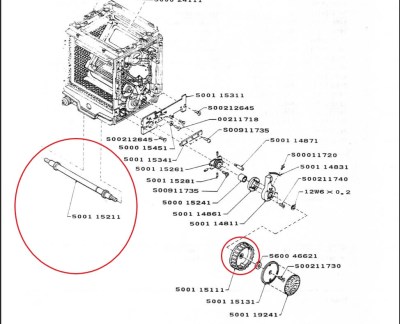 When it comes to professional medium format analog cameras, the Mamiya RB67 is among the most well-known and loved, ever since its introduction in 1970. Featuring not only support for 120 and 220 film options, but also a folding and 'chimney' style view finder and a highly modular body, these are just some reasons that have made it into a popular – if costly – reflex system camera even today. This is one reason why [Anthony Kouttron] chose to purchase and attempt to repair a broken camera, in the hopes of not only saving a lot of money, but also to save one of those amazing cameras from the scrap heap.
With the last of these cameras being produced well into 2009 (including the 1990 RB67 Pro-SD model), you'd figure that repairing them would be a snap, but with the world moving towards other (digital) cameras and film formats, most RB67s were produced during the 1970s and 1980s, spare parts are hard to come by. What does help is that the service manual is readily available, but as [Anthony] found, this is of only limited use.
What the service manual doesn't tell you, for example, is how to remove the leatherette covering to get to the screws underneath. Here a heat gun and some careful prying with blunt tools did the joy, and uncovered the main issue with the camera: a bent focus rod. As the lucky owner of a lathe, [Anthony] considered milling a new one, but since the origin part was made out of brass, he reckoned the original part could be bent straight again with some care.
With that bit of surgery completed, that just left a definitely busted part: a focus knob. Rather than plastic, these are made out of Bakelite, which is more fragile than plastic, and replacement parts for this camera are more rare than hen's teeth. Fortunately, the dimensions of the knob could be measured, a replacement knob printed in ABS and the original brass insert reused. Some careful reassembly later, and [Anthony] was in the possession of a fully functional Mamiya RB67 Professional.