All sorts of exciting things happen in your ears, and now there is a good open source way to monitor them. Open Earable is a new project from a group of researchers and companies that monitors and records what is going on in your ear.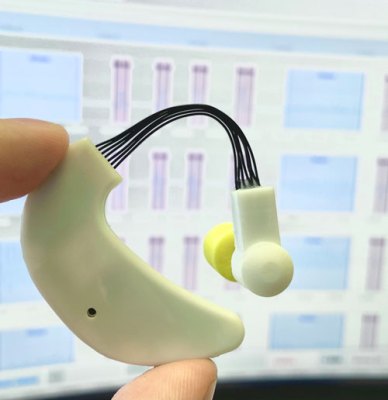 The project is designed as an easy-to-build, cheap way for audiologists and others to capture data about what is happening inside and around the ear. It's a clip-on device that looks like a small hearing aid but has a six-degree Inertial Measurement Unit (IMU) and several other sensors to measure things around your ear and inside the ear canal. A pressure and temperature sensor measures the air pressure and temperature just inside the ear canal, and a small speaker can squirt sound right in there.
A button on the outside allows the user to control the device, and it can play back or record sound to the internal SD card memory. These are all controlled by an Arduino that includes Bluetooth Low Energy. The existing design only allows you to play a stored WAV file, not streaming audio. That's a solvable problem, though, so it could also be turned into a set of hacker headphones.
Joking aside, this looks like an exciting research project and a useful tool for researchers. The GitHub repository for version 1.3 of the project lays it all out, including a full BoM and code, and the STL files for the case and PCB designs are in the Resources section of the site.
[Updated 18/10/2023 to correct IMU to Measurement, not Management. Intertial management needs a different set of devices]