let me ask you something. haven't you ever wanted to build your very own guitar amp out of an old video game system? of course you have. well now you can start out with the dreamcast guitar amp. basically, it's pretty easy, doesn't require any soldering, and takes a lot of patience.
if you dare attempt this rockin project, read on.
ok, so you're brave enough. you will need the following to do this project:
what you'll need to begin
a broken dreamcast
a smokey amplifier ($30 or so from this place)
basic toolset with screwdrivers to take apart the dreamcast
duct tape and super glue
a guitar and amp cable to test it out
time and patience
9V battery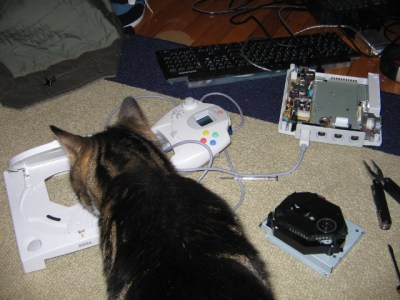 allright cowboy, so the reason why I did this? well my poor dreamcast stopped reading discs and i wanted to play my games so we had a falling out. it's really a shame. so i decided i'd turn it into a portable guitar amp. it's pretty simple to do this, so just follow along.
removing the guts
begin by unscrewing the shell of the dreamcast to seperate the lid from the bottom. then swat your cat away. you'll now be able to unplug some stuff like your cd-rom drive and modem (by the way, try starting up your dreamcast with no cd-rom one last time