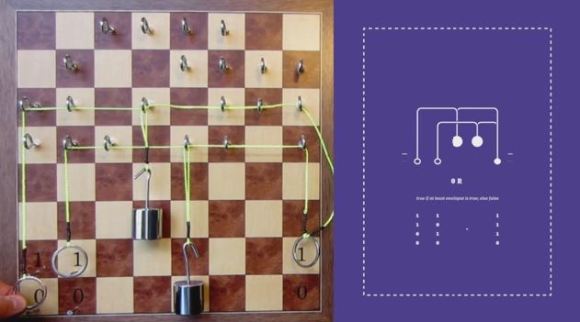 To demonstrate how computers work, [Alex Gorischek] has made a physical example of how binary logic gates work using pulleys and weights.
For anyone who doesn't know much about logic gates (Wikipedia), it's a great lesson in one of the fundamentals of circuitry. Using an old chessboard, eyelets, rings, weights, and string, [Alex] has designed a system that can show off all of the logic gates. This includes: NOT, BUFFER, NAND, AND, OR, NOR, XOR, XNOR. He's also included a gallery of all his examples here.
The neat thing about this demonstration is it is shown in a way that anyone can understand, heck, it's also something anyone can play with in order to learn! Stick around after the break and see for yourself.
Understand everything about logic gates now? Are you ready for the test? Do you think you're ready to make some using live crabs?
[via Adafruit]