Hackaday.io user [Prof. Fartsparkle] aims to impress us again with MoAgriS, a stripped-down rig for bringing crops indoors and providing them with all they need.
This project is an evolution of their submission to last year's Hackaday Prize, MoRaLiS — a modular lighting system on rails — integrating modules for light, water, airflow, fertilizer and their appropriate sensors. With an emphasis on low-cost, a trio of metal bars serve as the structure, power and data transmission medium with SAM D11 chips shepherding each plant.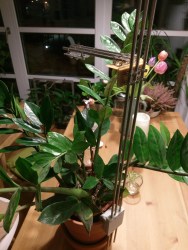 Reinforced, angled PCBs extend rails horizontally allowing the modules to be mounted at separate heights. Light module? Up top. Water sensor? Low on the rails above the pot's rim. You get the idea. 3D printed clamps attach the rails to the plant's pot with a touch of paint to keep it from sticking out like a sore thumb among the leaves.
Airflow modules replicate wind currents — the lack of which results in thin, fragile stems — and light modules include a soft white LED to accompany and mitigate the full-spectrum LEDs' pink neon-like glow. To manage watering the plants, [Prof. Fartsparkle] initially wanted to use one pump to distribute water to every plant, but found some smaller pumps at a low enough price-point to make one per plant viable — and simpler to integrate as a module as well!
If you prefer your gardening to take place outdoors, consider a robot assistant to tackle your weeding.