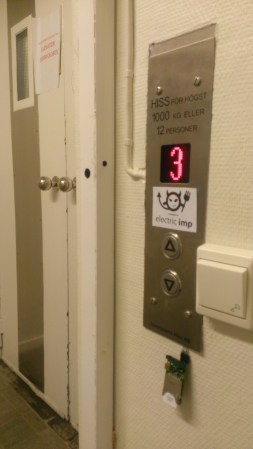 The elevator at [Alex]'s office building has some quirks which make it very inconvenient to everyone in the building. The major problem was that the doors of the elevator at each floor stay locked until someone walks down the hall to hit a button. Obviously this was a hassle, so [Alex] built a controller that can remotely call and unlock the elevator. (Part 2 of the project is located on a separate page.)
The first step was to source the hardware and figure out exactly how the controls for the elevator worked. [Alex] decided to use an Electric Imp for this project, and after getting it connected to the Internet, he realized that he could power it directly off of the elevator's 10V supply. From there, he used relays to interface the Electric Imp with the "elevator call" and "elevator unlock" buttons inside the elevator's control panel.
Once the hardware side was completed, it was time to move on to the software side. [Alex] wrote a mobile app for a user interface that can be accessed from anywhere, and also wrote the code for the Electric Imp agent and the code that runs on the Electric Imp itself. Now, a simple tap of a button on a mobile device is enough to call the elevator or unlock it, rather than in the past where someone had to run down a hall to hit the button.
We hope there is some security on the mobile app, otherwise anyone in the world will be able to call the elevator and turn it into a passenger-less useless machine!