Today marks exactly one year since we announced to the world the first product from our software lab – Hackaday.io. In what has been an incredibly exciting year for all of us, we evolved from a simple idea and a prototype to a truly massive community that's making its mark on the world. Day after day, carefully listening to the invaluable feedback from our users, we have improved and moved forward, one line of code at the time.
We still have a long way to go, but we'll pause for a second now and reflect on how far we've come. Then get right back to fixing bugs and developing new features.
It all started with a simple idea – building a better project hosting website. Though there are project and content websites galore out there, with new ones popping up every day, it all still felt too bland. We thought we could do better. After all, the medium is the message. The place where something lives sooner or later becomes a key part of its identity. So in order to prevent a dystopian future in which we're all hosting our projects using the (fictional) Microsoft Maker Suite 2020 and simply don't care, we started to work on providing an alternative.
We quickly realized that we had a much bigger mission on our hands. Sure, a better project hosting website would be nice, but what we felt we really needed was something [Brian Benchoff] has been talking about for quite some time – a "virtual hackerspace." Not just a place where you can post your builds once you're done (and hope someone sees it), but a living, breathing community: a place where you can start with an idea and get feedback as it develops, find collaborators, iterate, and ultimately end up building something way more amazing than you would have accomplished on your own.
This has been the aim of Hackaday for many years, but most of the collaboration was constrained to the limited space of post comment threads and biased by the editorial choice of articles and topics. With the introduction of Hackaday.io, we open up a space for anyone to unleash their creativity and expertise, and together, change the way people build things.
The Data
Unfortunately, making bold claims about how we're out there changing the world is pretty much a commodity these days. As most Web startups can testify, it doesn't take more than a simple landing page with nice photography and some uplifting message for any arbitrary claims to appear credible.
So instead of trying to convince you with words about how awesome the last year had been, we'll just stick with the data.
This is what our user and project growth looked like: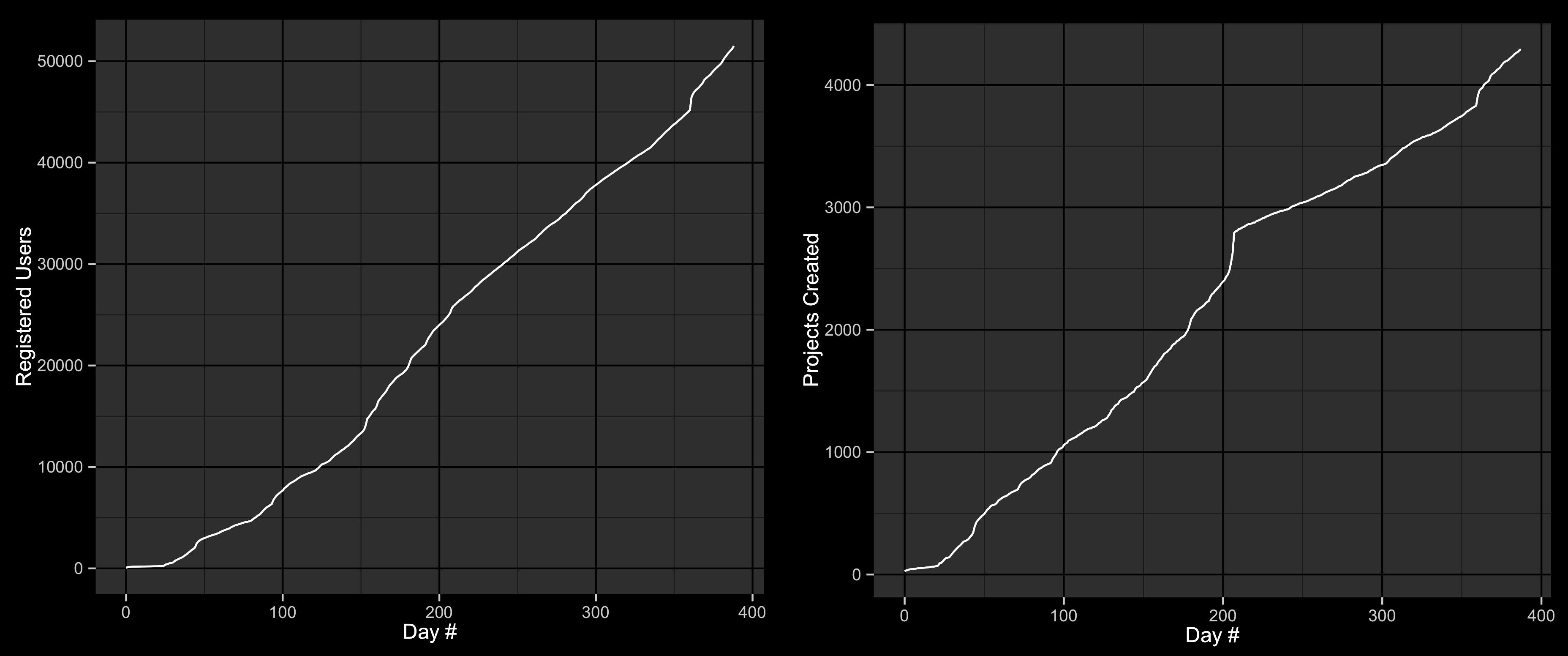 Over the course of the last 365 days, Hackaday.io has grown from zero (well, technically a handful of testers/developer accounts) to a total of 51,838 registered users. More importantly, it has grown from zero projects (we didn't believe in pre-seeding it with content) to 4,365 strong, all created by our amazing community members.
The part that's the most impressive here is that it did not happen as a result of a blip but rather a sustained growth over time. Although the THP 2014 deadline did cause some acceleration in project submissions, most of the growth has been happening completely organically. While this is to be expected with "social networks" that rely on pulling in all of your friends onboard as soon as you sign up (think Facebook, G+, Linkedin…) in our case is nothing short of a miracle. After all, how many people have you invited to sign up for Hackaday.io? And we still managed to grow to 50k, one user at the time.
Projects
Now the number of users and "vanity" metrics are great, but what we're really all about here is building things. And it's the vast space of 4K+ created projects that makes us all incredibly excited. On the development team, we have gone from knowing every project on the website by heart, to using it as a source of inspiration and always getting surprised by new projects we discover every day. To show just how mind-bogglingly huge this is, let's look at the distribution of the number of projects across top categories: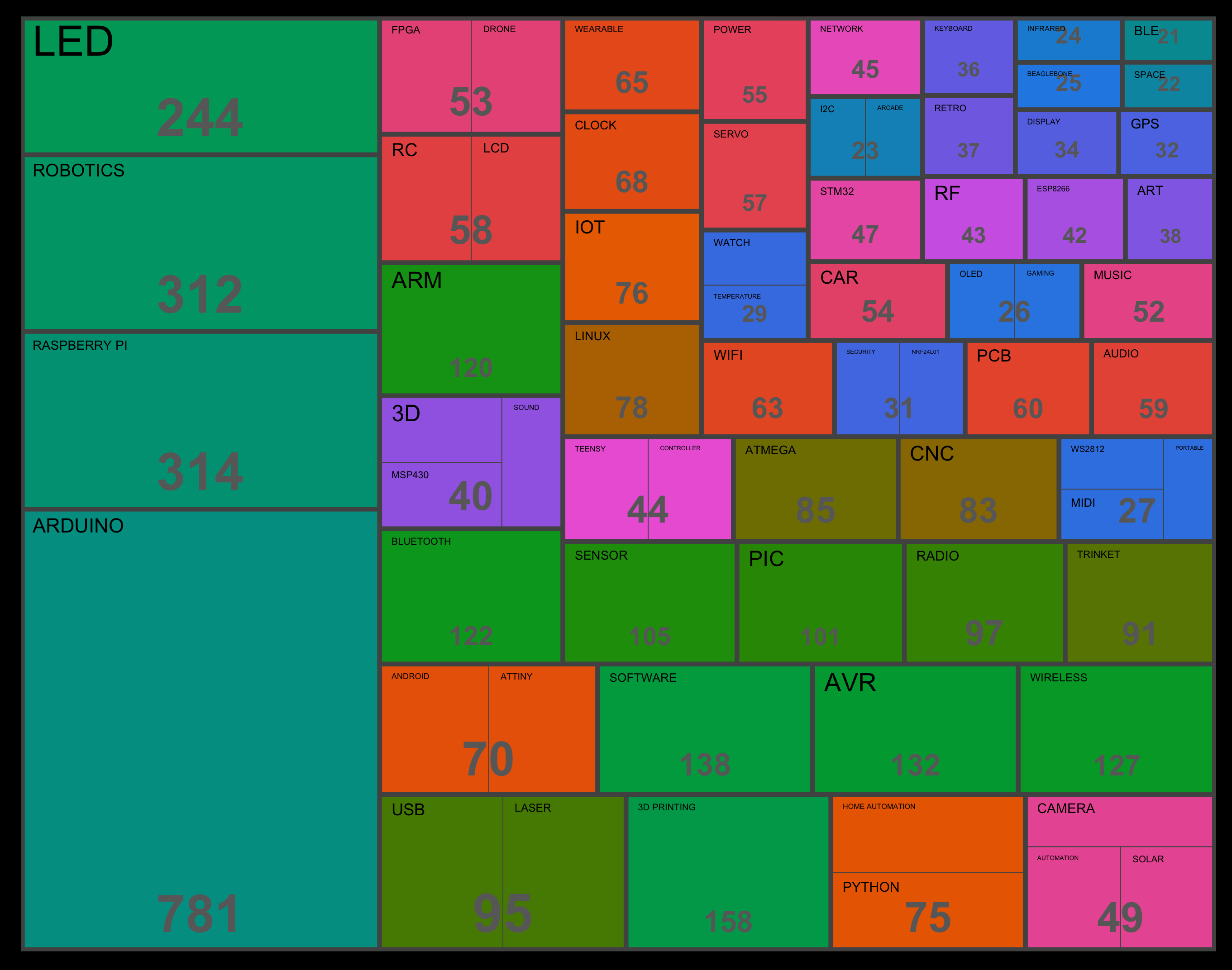 There are 70 different categories with more than 20 projects each. That's a lot to explore! No matter how specific your interests are, it's very likely you'll find something worth checking out.
Community
The project side of things was the main focus of the website from the day one, but we also knew we have to deliver on the whole mission of building a real "community". Whether we liked it or not, the only way known to was to add some of these dreaded "social" features. So Project/User follows, Global/Personal feed, and most importantly, the infamous "Skull" found its way to the site. We honestly had no idea whether anyone would use these features at all. We tend not to be among the most "social" people on the block, so we were naturally skeptical.
We were so thrilled when we realized we had been proven wrong! At the moment, there are 88,703 user->user and 105,315 user->project follow relationships on the site. Clearly not as "social" as something like Facebook (nor is that the goal), but we can see the real project community taking shape.
In the interest of general geekery, we thought we should celebrate this with a little rendering of user-user graph using Gephi (restricted to top 5,000 users since large-scale graph layout is a nightmare):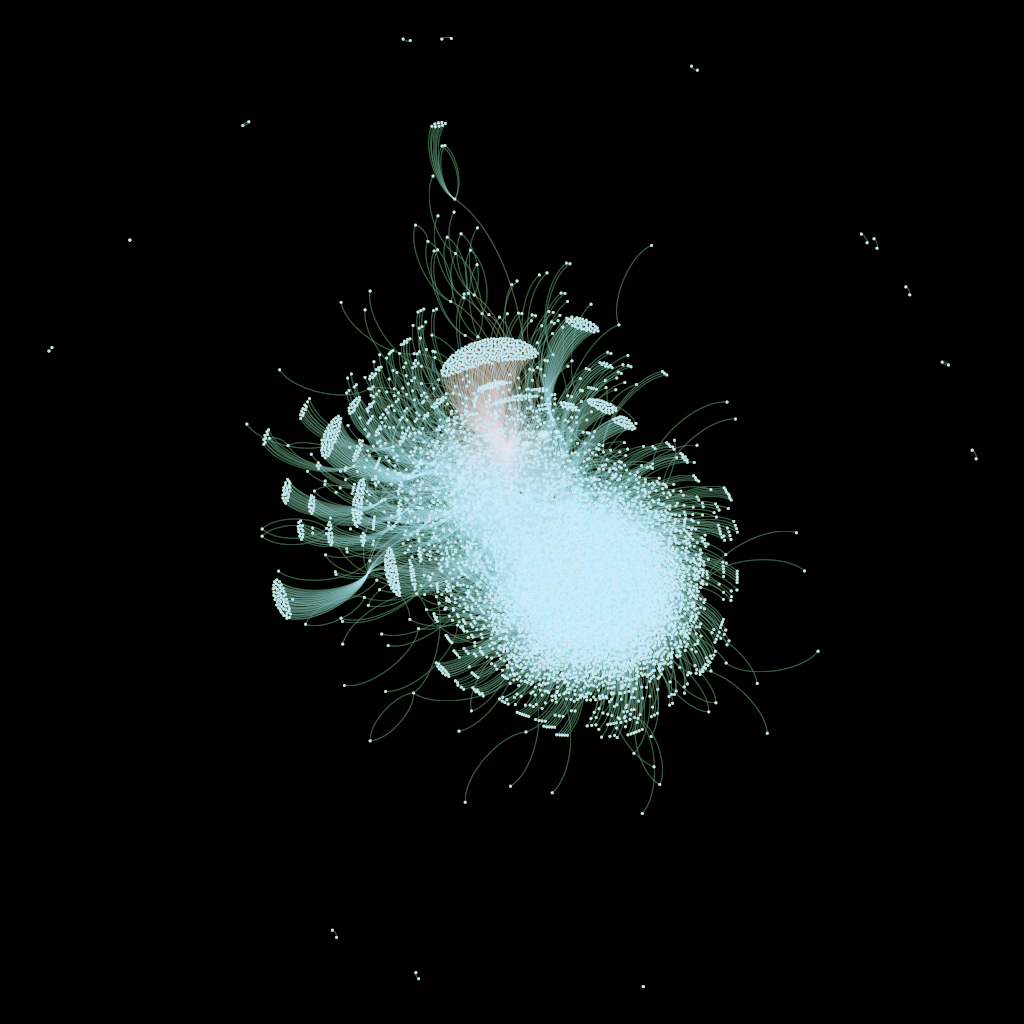 The Public Side
Now all of this is just the tip of the iceberg. All of the content on Hackaday.io is completely open, and most of the visitors don't end up creating accounts at all. In the last 30 days alone, we had 246,270 unique visitors to the site, resulting in a total of 1,224,619 page views. That's 1.2M impressions of someone's work, collaboration, feedback and all other creative uses and abuses of our platform.
The natural question is – how is all this attention being distributed? Sure, popular projects are likely to get a lot of attention but what can I expect for my little toy project? Is it just going to sit there, dead markup on the page and never get any attention?
So we look into the distribution of page views and project follow/skulls across all 4,365 projects:
In a nutshell, what these are telling us (for those that don't like the log scale, summary statistics are given as linear), is that:
There are more than 400 projects on Hackaday.io which got more than 2,000 pageviews each, have more than 39 followers and more than 22 skulls
The "elite" group of top 40 projects each got more than 16,000 page views, 230 followers, and 138 skulls!
Most importantly – the *average* project on Hackaday.io got more than 170 views, 10 followers, and 4 skulls.
So even if you're just starting, don't have a groundbreaking idea or amazing execution, your project is still very likely get you some love and start collecting feedback.
15 Minutes of Fame?
Another big question we wanted to look at is the long-term aspect of all this. Sure, we all know how great it feels when the project on our blog gets featured somewhere, and we get that magical spotlight for a day or two. But then it's gone, and all forgotten. It's just how the Web works.
In order to get a better sense of this dynamics on Hackaday.io, we analyzed top 400 projects and their evolution of the number of followers/skulls over time: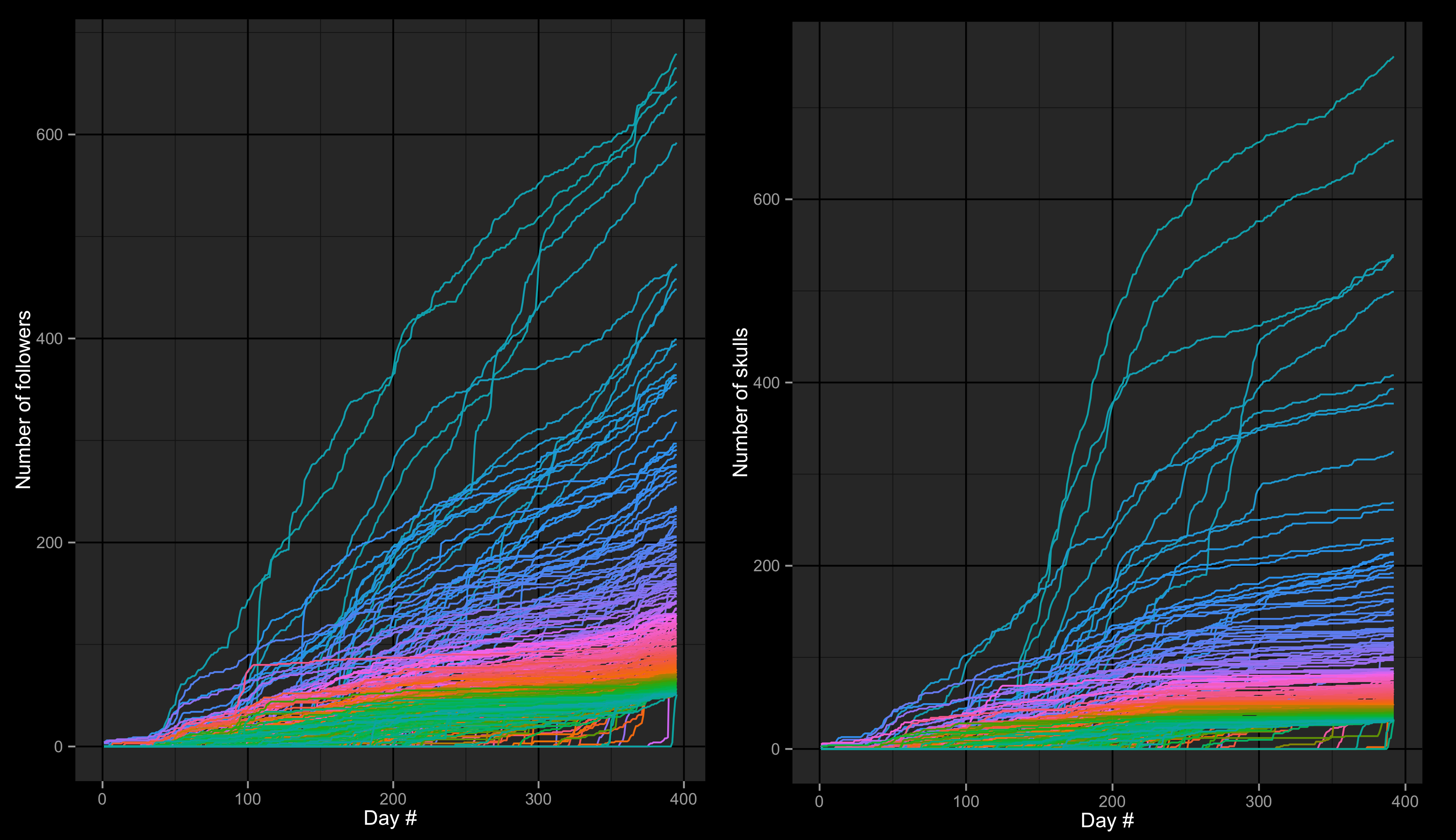 We were very excited to see this result! It shows that, though big events like getting featured somewhere will definitely result in the short-term boost of interest for the project, most of the projects continue to maintain interest over time and never really die out. Hopefully, this will result in extra motivation for project creators to keep improving their builds for a long time after that initial demo day.
Another interesting thing you might notice on careful examination of the graphs above is the lag between the growth of number of followers and number of skulls. It turns out that a lot of people might "follow" the project if they find it promising, but it will take a while for you to impress them enough to earn that precious skull. It's a valuable commodity around these lands.
Global Feed
One last thing we wanted to look at was the Feed. Since the introduction of this feature (and especially after its redesign), it became a part of the daily routine for a lot of people who are now using it to enjoy the flood of daily activity on the site.
We thought It would be nice to quantify the level of this activity, so we have analyzed the frequency of Global Feed events (projects created, comments, profile updates etc.) for every hour over the course of last year. Here are the results: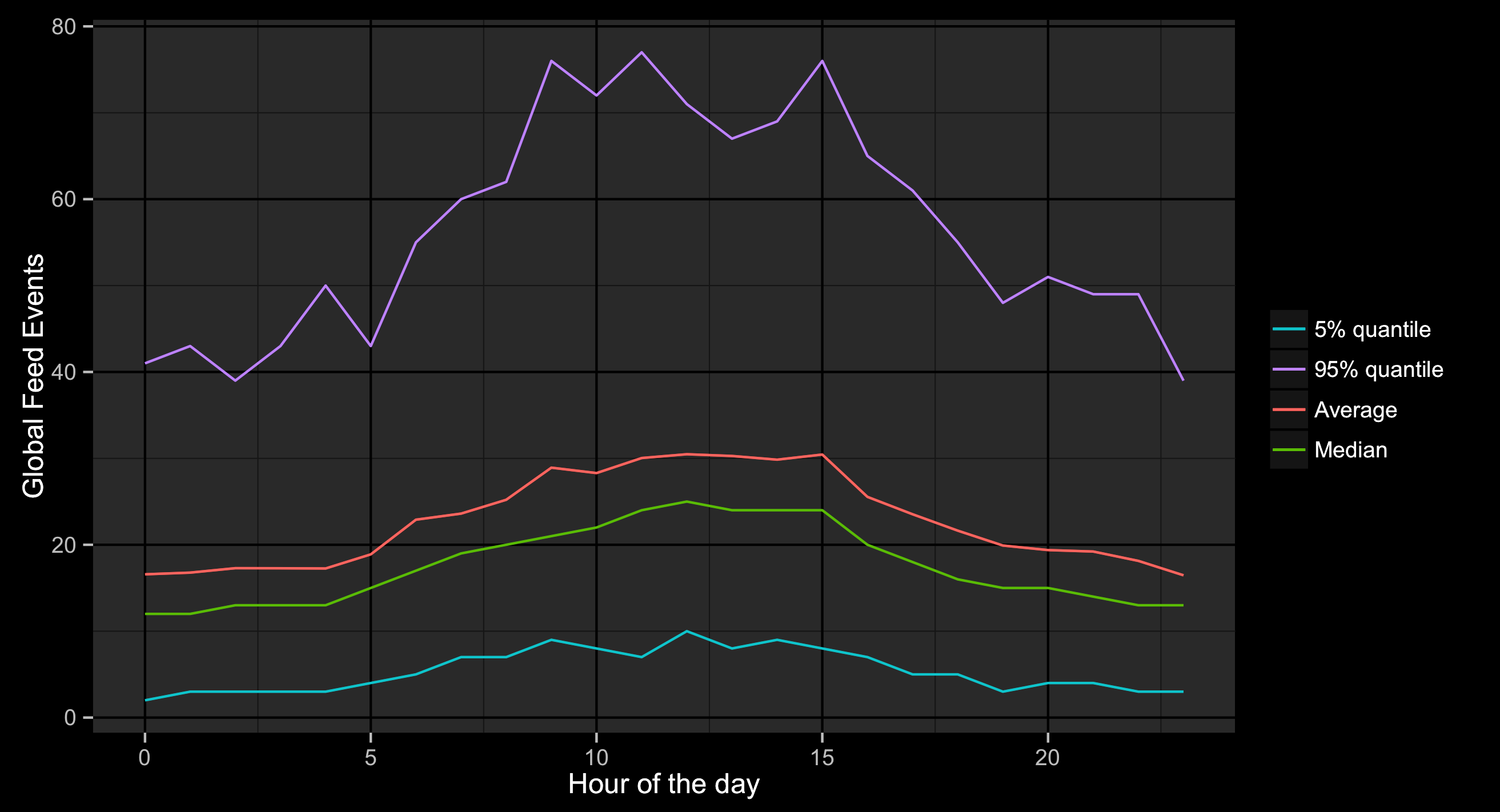 What this tells us is that, even in the darkest hours of the night, on the slowest day possible, there will still be something new popping in the Global Feed every 5-10 minutes. And on a busy day, during work hours, several new items will be streaming through the feed every single minute.
Not as fast as Twitter's global feed, but still pretty damn cool.
So what's next?
Now that we have shared all of this data, it's time to get back to work. As usual, most of the workload schedule will be reactive, based on user feedback or what feature we feel most passionate about at the time, but here is the rough list of priorities:
Issues/Bugs – as you all know, these will never end. The more features we develop, the more of these will be creeping in. And that's fine. Our priority is to squash them before they start impacting the user experience.
Collaboration Features – we feel that we need to do much more in order to facilitate real collaborative project development on the site. We have some things cooking and hopefully will be able to show them off soon.
Content Hosting – over the last year, we had intentionally stayed away from offering any data hosting. This was primary because we did not want to increase the fragmentation of the existing ecosystem (we love Github and think everyone should use it), but requests have been piling up and we'll have to do something about it. Ideally in a way that makes sure you can still host all of your code on Github, but use Hackaday.io for storage of binary assets, etc.
Private Projects / Pages – this is another one we have tried to stay away from. We truly believe that by keeping all the information open, great things will happen. However, a number of people have been complaining that, due to the "all in open" policy, they're reluctant to start projects from scratch on the .io, fearing they might get premature critique (I am personally guilty of this too). So we'll be working on a workflow that allows you to start the project as "private" and open it up only when you're ready to do so. That said, we'll still be doing everything to encourage people to keep things as open as possible.
Public API – this one is long overdue. Our original plan was to launch it shortly after the original release, but the post-launch reality kicked in, and this felt through the cracks. We'll definitely try to get it out in the next couple of months.
Better BOM/Schematic Management – clean documentation is heart and soul of all things Open Hardware and our existing "Components List" is not doing it justice at all. So we're getting ready for a big overhaul. It's going to be good.
Everything Else – there are so many great things we want to do and so little time. But we'll juggle. If you have ideas on features or improvements that would be valuable to the community, please send them our way. We'll figure out a way to make them happen.
Once again, massive thanks to everyone that stayed with us over the course of last year and helped us grow Hackaday.io to where we are today.
Looking forward to the equally exciting Year #02!