It happens with every generation – we're born, our parents care for us and nurture us, we grow up, they grow old, and then we switch roles and care for them. Soon it'll be my turn to be the caregiver to my parents, and I recently got a preview of things to come when my mom fell and busted her ankle. That it wasn't the classic broken hip was a relief, but even "just" a broken ankle was difficult enough to deal with. I live 40 minutes away from the 'rents, and while that's not too bad when the visits are just the weekly dinner at Grammy's, the time and the miles really start to add up when the visits turn into every other day to make sure Mom's getting around OK and Dad is eating and sleeping.
I was sorely tempted to hack some kind of solution to give myself a rudimentary telepresence, but I couldn't think of anything that wouldn't have either been unacceptably intrusive (think webcams) or difficult to support from an IT perspective. Mom's pretty handy with the iPad and she Skypes with my brother and his family out in California, but beyond leveraging that I was tapped out for ideas that I could easily deploy and would deliver sufficient value beyond the support burden within the time frame of healing the ankle. Consequently, I spent a lot of time in the car this summer.
This experience got me to thinking about how intergenerational caregiving will change with the rise of pervasive technology. The bad news: we're still going to get old, and getting old sucks. The good news is, I think technology is going to make things easier for caregivers and elders alike. We have an incredible range of technology experiences among the generations present right now, from my parents who can remember phones without dials and nights spent listening to the radio, to my daughter's generation that is practically growing up with supercomputers in the palms of their hands. How each generation ages and how it embraces technology as a solution for age-related problems are going to be vastly different.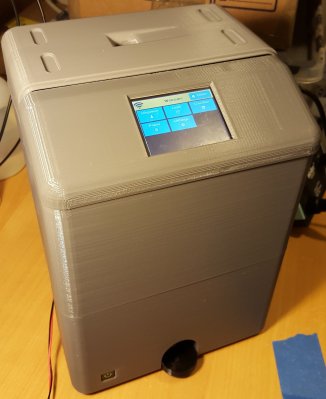 Making Stuff That Matters
The 2015 Hackaday Prize has a "make stuff that matters" theme, and a surprising and encouraging number of entries were related to elder care and aging-in-place issues. Among my favorite entries is the Smart Desktop Medicine Organizer. Basically a home version of the Pyxis system used in hospitals, it's a cloud-connected dispenser for medicines in pill form that keeps track of when to dole out pills, warns of potential drug interactions, and keeps track of compliance. That would be a boon for the remote caregiver – being able to pull up an app on your phone and see whether Dad has taken his meds today would be handy. And providing organization for increasingly complex regimens of medication would be a benefit to the senior. Since it provides tangible benefits to both the care giver and the senior, I bet this would be among the easier technologies to deploy.
Further out on the intrusiveness spectrum, we're seeing more and more variations on the old "I've fallen and I can't get up!" devices. Another 2015 Hackaday Prize entry is the Elderly Asset Tracker, a name which admittedly would not market very well. But the idea of a wearable sensor that detects falls using accelerometers and alerts a call list using the cell network rather than a proprietary wireless signal has a lot of potential. I think I'd have a hard time getting my parents to carry something like that, though – it has to be tough on your spirit of independence to be tagged and tracked like that. Maybe rolling the same functionality into a smartphone would lower the barrier to acceptance. After all, the suite of sensors on any modern phone should be capable of detecting a fall and initiating a call for help. Does anyone have elderly relatives that are early smartwatch adopters?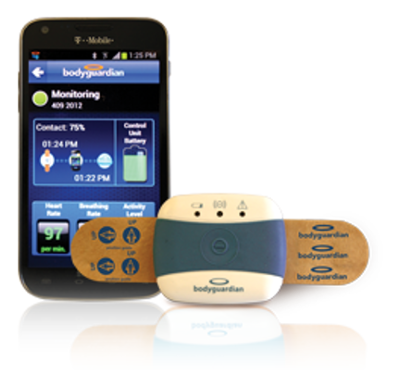 It seems to me the smartphone is probably going to be the gateway platform to a lot of innovation for seniors and caregivers alike. We're already seeing wearable cardiac sensors that talk to a smartphone over Bluetooth and monitor a patient in real time. There are also FitBit-like devices that monitor and analyze activity and send alerts when unusual patterns begin to emerge, such as alterations in sleep cycles or changes in gait speed. That not only helps the caregiver know when an emergency occurs, but can also provide early warning for some diseases. And for the aging driver, Automatic's $99USD dongle for a car's OBDII port allows you to keep track of almost everything about the vehicle, including where it is if the driver gets lost or confused.
All of these technologies rely on adoption by both the caregiver and, perhaps more importantly, by the senior. That's where the intergenerational part of this will come into play. To those of us who've grown up in a world where privacy is a flexible concept that's easily circumvented by a few paragraphs of legalese buried on some website's policy page, we might find pervasive monitoring an easier pill to swallow. We know that the smartphone giveth and it taketh away, and we'll probably be more eager to adopt some form of monitoring when it's our turn to begin writing our last chapters. It's probably going to be a different story for our parents, though, and the increased effort to overcome their reasonable objections, coupled with the difficulty we'll no doubt incur as we try to support whatever we deploy, might make the whole thing more trouble than it's worth.
Cashing in on our Elders
The hacking community often focuses on solving immediate problems. I think that the coming demographic deluge of aging Boomers offers not only short-term problems that will need to be fixed but also the potential for capitalizing on larger trends. Estimated spending on elder care in 2016 will be $319 billion in the US alone, and is expected to grow at over 6% per year. That's a huge pile of money, and laying claim to even a tiny fraction of it could make someone quite wealthy.
A fair number of the Hackaday Prize entries in the elder care space have real potential to be developed into products that can be mass-marketed; you can bet they're not the only ones walking that path. As with anything in health care, regulatory hoops aplenty will need to be jumped through before the Next Big Thing hits the market and starts turning a profit. A lot of great ideas will fall by the wayside, and the hackers who succeed will be those that have not only a great idea but also what it takes to navigate through the system and deliver their vision. And even for the ideas that don't hit it big, there's plenty of room to make a difference and make a living on the margins. If you can come up with that must-have smartphone app that'll make elder care better, easier or cheaper, a $1.99 price point could end up being very lucrative without becoming a financial burden for those who need it.
It's going to take a lot of passion and a lot of perseverance to rise our technology to the challenge of hacking elder care for the better. Bringing these ideas to market and building products that stand a chance at making a difference in the lives of caregivers and elders alike is a worthwhile pursuit for many reasons. And who knows – you may end up working on something that will save your own life one day.