We're far beyond the heyday of the RepRap project, and the Hackaday tip line isn't seeing multiple Kickstarters for 3D printers every week. In a way, this is a bit of a loss. The rapid evolution of the low-cost 3D printer seen in the first half of this decade will never be matched, and from now on we'll only see incremental improvements instead of the revolutionary steps taken by the first Prusa, the first Printrbot, and even the Makerbot Replicator.
This doesn't mean everything is standardized. There's still enough room for arguing over deltas versus Cartesians, beds moving on the Y axis versus moving along the Z, and a host of other details that make the current crop of printers so diverse. One of these small arguments is especially interesting: the diameter of the filament. Today, you can get any type of plastic you want, in any color, in two sizes: 1.75 and 3mm. If you think about it, it's bizarre. Why on Earth would filament manufacturers, hot end fabricators, and even printer manufacturers decide to support two different varieties of the same consumable? The answer is a mix of a historical choice, engineering tradeoffs, and an absolutely arbitrary consequence of what 3D printers actually do.
In The Beginning
Although filament-based 3D printers have been around for 20 years, these machines were outrageously expensive and usually tucked away in the engineering departments of large companies and universities. It was not until [Adrian Bowyer] started the RepRap project that the age of home made hot ends dawned.
These hot ends were, by any modern measure, terrible. The Thermoplastic Extruder is built from nichrome wire, JB Weld, Blu-tack, PTFE rod, copper plumbing pipe, and an M6 brass stud. Compared to the E3D V6 – an all-metal hotend with a heater cartridge, sensible thermal design, and replaceable nozzles and it's surprising the first hot ends worked at all.
 Although nearly everything from the original hot end experiments have been reengineered and reworked, one thing remains: the 3mm filament standard. The first thermoplastic extruders were designed to accept 3mm filament, and one of the first RepRap wiki pages for filament suppliers bears this out. Everything was 3mm, and Makerbot has doubled the price of their filament in five years. No surprises here. 3mm filament was the standard until 2011, when 1.75mm appeared on the scene and started to take over.
Why the switch?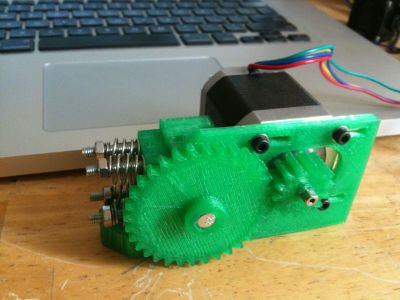 The earliest home 3D printers used geared extruders nearly exclusively to push filament through a hot nozzle. These geared extruders, like Wade's Geared Extruder, are essentially a reduction drive. By using 1.75mm filament, the torque required from a stepper motor is three times less than with 3mm filament. This reduction in torque means a smaller direct drive system can be used, and since the drive system is smaller, the inertia of an entire print axis is reduced. This means smaller, faster printers than can also print better at low layer heights.
There's another advantage of using 1.75mm filament – print speed. Heating less mass will always take less time, and if your goal is to print as fast as possible, you have two options: increase how much power you dump into a hot end, or decrease the size of the filament.
That's not to say there aren't advantages to 3mm filament. If you're printing with large nozzles or high feed rates, you want a larger filament. When you consider something as insane as the PartDaddy, even the biggest filament is out of the question; by that time, you move over to pellet extruders. If you're using a Bowden setup, 3mm filament will be a little less resistant to bending, though.
The difference between 1.75 and 3mm filament is only a choice in engineering tradeoffs – neither one is better, but each offers a few advantages.
The Current Situation
Despite a few holdouts like Lulzbot, the entire 3D printing industry seems to have settled on 1.75mm filament. New Printrbots are exclusively 1.75mm, and Makerbots use 1.75mm filament. The Dremel Idea Builder 3D printer – available at Lowes and Home Depot – uses 1.75mm filament. If you ever find yourself in a situation where you need to buy filament within the next hour, you had better hope your machine takes 1.75mm filament.
With a well-designed printer, there isn't much difference between 1.75 and 3mm filament. A properly tuned printer can produce parts of a similar quality with either size filament. If this is the case, then surely the market would standardize on one filament or another, right?
This seemingly obvious consequence isn't so. In talking with a few filament manufacturers and resellers, the sales volume between 1.75 and 3mm filament is about equal. For one reason or another, an entire community has settled on two different standards.
While this completely arbitrary evolution of two different sizes of printer filament exists, it's not one that actually matters. The engineering choices that go into designing a printer to work on either filament are simple enough, and most people will keep enough filament on hand so they won't have to rush out to the store twelve hours into a sixteen hour print. It is interesting, though, to see how we got to this point of two completely different standards for something that should just be one.