What does it mean to "build your own computer?" Today, it is likely to mean you bought a motherboard, a power supply, and a case and put it all together. You might even have made an embedded computer using a few chips, including an off the shelf CPU. However, there are those guys (like me) who have built entire computers using FPGAs and some (not like me) who have built computers out of TTL chips, discrete components, and even relays and we have covered quite a few of them.
It hasn't always been that easy. Components are readily available now and relatively cheap (especially considering inflation). In the 1960's, simple components cost more than you pay for them today and back then your hypothetical self was making less money. In just about every way imaginable, the cost was prohibitive.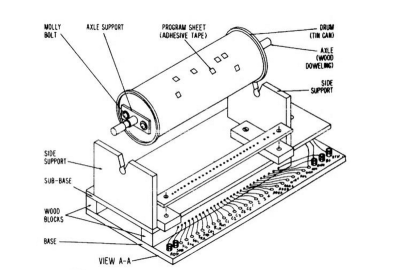 So what did you do if you were a kid saving money from a paper route in 1968 and you wanted to build a computer? Maybe you turned to How to Build a Working Digital Computer a book published in 1968 by [Edward Alcosser], [James Phillips], and [Allen Wolk]. This book did as the title promised: you could build a working digital computer. The components, though, were paper clips, tin cans, thread spools, and other household items. The only real electronic components you had to use were light bulbs and a battery, although you might also use store-bought switches in some places instead of the homemade versions shown in the book.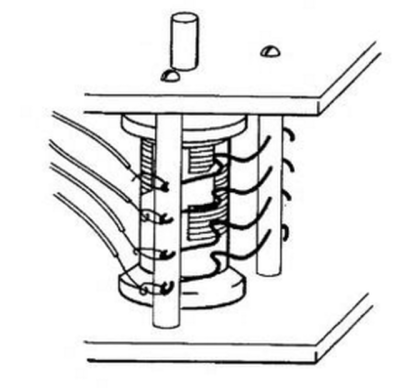 As you might expect, it takes some ingenuity to build a computer out of items like this. The program storage was a tin can covered with paper. Brushes would sense where the paper had holes in them and each hole location was an encoded instruction (very similar to a punch card, but wrapped around in a cylinder). Encoders used empty thread spools, wrapped with wire and paper masks. Paper clips formed brushes and wood screws made the pointers so  you could tell which number you dialed into the encoder (see picture to right).
The only compromise? It was up to you to transfer data between some lights and some switches in the control unit. That is, when a certain light turned on, you were supposed to copy a pattern of lights into a bank of switches before continuing. There were ten instructions and 16 words of memory, so it was a pretty simple machine, but with no active devices (well, if you don't include yourself) and mostly made from scrap, it was pretty impressive.
You have to wonder how many of these actually got built. There was a commercial version made called the CT-650 (and, at $1000 each, we doubt many were sold). In addition, there have been several known complete builds including one that has a few YouTube videos (see below). A high school math club built one in 1975 (image at the top of this post), as did two ninth graders in 1972 (for about $150; but don't forget you could buy a Ford Pinto in 1972 for about $2000 and $150 would almost pay your average month's rent).
You can argue that times change and that the paperclip computer is a relic. Maybe. But I can't help think if you built one of these–especially as a kid–you'd get a lot more insight into how a computer actually works than by only slinging some Javascript, or setting up a Web server on a Raspberry Pi.