Cellphone startup Fairphone is now taking pre-orders for their modular smartphone, which is expected to start shipping in December of this year. Although I'm much more familiar with Google's project Ara, this is the first modular concept to make it to market. It does lead me to a few questions though: is this actually a modular smartphone, and how widely will modular concepts be adopted?
Great in Theory, Questionable in Practice
What if I told you that your smartphone camera was user upgradeable? When the next great gigapixel sensor comes out, just pop out that module and pop in a new one. What if the same went for the processor, the screen, or the charging circuitry? Surely everyone wants the USB type-C fast charging that is available in the new Google Nexus Phones.
It sounds great, but the truth is that the majority of smartphone users don't know what they have anyway. Orienting our modular design thinking to the high-end market is a miscalculation. The people who want the highest specs also want the thinnest, sexiest phones. Those are already slimmed down to the point of insanity — iPhone screws now have imperceptibly different lengths to account for this thinning of design. These tolerances make modularity nearly impossible.
Standards
You could say that I already have a modular phone. I have a Nexus 5 and I love it so much I decided not to upgrade to the Nexus 5X that was recently released. Instead I purchased a replacement screen (I had a small chip in one corner for 11 months), battery, and back plate. From the outside this makes it a brand new phone and restored my time between recharges. All of the pieces have connectors that allow them to be easily replaced.
What we're really talking about with modular smartphones are standards that can be used from component to component across all phones. This involves settling on a physical form-factor, and making sure the software can handle each component that is developed. That increases code complexity and makes it harder to squash bugs. This is already an issue with single-manufacturer phones and is unlikely to get better when bringing in modules from different companies.
Currently, Google is working on their own modular standard which includes active data handling in the framework itself. The Fairphone design uses the frame as a substrate with conductors between each slot that don't actively participate in the way the phone operates.
There is a Customer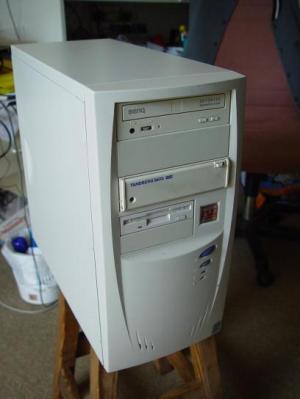 Thinking back to the personal computer revolution, it's easy to imagine a similar path for smartphones. We eventually had standards for motherboard mounting systems so that cases could be made to match multiple manufacturers. The same went for expansion cards which adopted ISA and later PCI. The list continues with processor sockets, memory sockets, even the power connectors for everything inside of that beige box.
That last part is of course the main problem. Who wants a beige box for their smartphone? These devices are a status symbol and a fashion statement. The established smartphone market is far too fickle for wide adoption of a modular standard that would make the phones look uniform, boxy, etc. I'm not saying this is impossible to get around, but before you can get around that issue you need to establish modularity as a proven smartphone technology. I think the early adopters of modular smartphones are going to be in the developing world.
Much of the population of the developing world doesn't have computers, and they're going to skip them in favor of a smartphone. The original PC revolution put up with beige boxes because they were cheap to get into, and could potentially be upgraded. I think the same will happen with modular smartphones. If you can drop 10% of the cost by having a 640×480 camera module instead of a 4k video sensor you're making great progress. Especially so if you can later upgrade that camera. The same can be said for the pitiful 8GB of flash that many low-end phones still offer. What these phones lack in visual appeal will be made up for by aftermarket phone cases to protect the investment.
When I was growing up I was the "computer guy" that people knew and looked to for help with their machines. Time and again I've ordered memory upgrades for aging machines (all while encouraging the owners to try out Linux and get more out of their aging horsepower). I expect the same phenomenon to develop in the communities of people adopting modular smartphones as their first Internet technology.
Why Would Manufacturers Embrace This?
This is a question I cannot answer. Why would smartphone manufacturers go willingly toward modular design? As far as I can tell there are only disincentives here. It's not surprising that Fairphone is a startup and not already in the market. Google — who is behind Project Ara — is not a hardware manufacturer. They are an advertising and content delivery company that uses third-parties like LG and Huawei to manufacture their gear.
For modular design to work you need to allow anyone to build modules. This is why I see my current Nexus 5 as having little to differentiate it from how Fairphone works. Google produces components for the Nexus 5, Fairphone produces modules for their handset. Fairphone paid for research and development of the standard and you can bet they're not going to give it away for free. If they do allow other manufacturers to make modules there will surely be a licensing fee and this has the potential to drive up the cost and erode the ability for this phone to capture the developing world's hard-earned cash.
There are some ways around this. Sony and Microsoft have long sold their gaming consoles at losses, only to make up for it with licensing fees for game publishers. Amazon sells their new Kindle Fire Tablet for $50 but you have to pay an additional $13 if you don't want to see advertising on the home screen. What if one of the hardware modules is the Google Play store, another the Apple Store, and yet a third the Amazon Store? Would these retailers pay a premium to have exclusive access to each phone?
It's wonderful to see what is going on with these concepts. But for now I see them as phones that are much easier to repair, and may have the capacity to be upgraded. They're not modular, but with continued decreases in the size and cost of electronic components it's conceivable that there will be a modular-phone movement — as long as a clear design standard that works like a champ finds wide adoption among manufacturers.