According to an article in the Smithsonian magazine, these geometrically arranged hills aren't landing signs for extra-terrestrials, but instead effectively sound baffles worked into the ground behind a runway at Amsterdam's Schipol airport.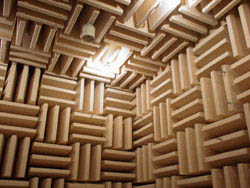 The 80 acres of hills and valleys are called the Buitenschot 'land art park' and supposedly reduce noise in the nearby neighborhood by around 50%. They work by sending the reflections in random directions that would otherwise skip off of the ground, just like anti-echo baffles in a sound studio. A nice touch for the local residents, they also contain jogging trails.
People have made land art before — we particularly like Spiral Jetty in the Great Salt Lake — but as far as we know this is the first land art "piece" that's also functional.
Beauty is in the eye of the beholder, of course. Unfortunately, as the Smithsonian notes, nobody is beholding it. Because Buitenschot aims to diffuse the takeoff noise coming out of the rear of the planes, they are always flying away from it; passengers don't get to see it from the air.