About eight years before the Xerox built the Alto at PARC and over a decade before the Apple ][ premiered, Italian business equipment manufacturer Olivetti produced a bona fide desktop personal computer. When Olivetti debuted this typewriter-sized marvel in 1965 at a business convention in New York City, people were in absolute awe that this tiny, self-contained unit could perform the same types of functions as the hulking room-sized mainframes of the time. Some were sure that it was simply a small input device for a much bigger machine hiding behind the curtain.
But the revolutionary Olivetti Programma 101 was no joke. It performed standard four-banger operations and could handle square root and absolute value calculations. The Olivetti had 16 jump instructions as well as 16 conditional jump instructions, which put it firmly in state machine territory. Programs could be printed on a roll of paper or stored long-term on long magnetic cards.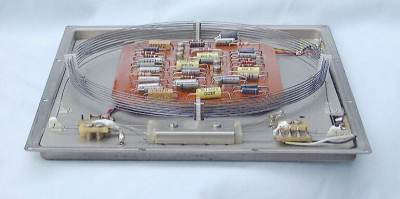 In order to store data internally, the Programma used magnetostrictive acoustic delay line memory wherein a thin wire is twisted by a transducer inside of an electromagnet. Each zero coming in twists the wire one way, and each one twists it the other. These torsion waves move down the wire to a piezoelectric transducer on the other end. The signal is amplified, reshaped, and sent back into circulation until called upon by a program.
At at an introductory price of $3200, people and businesses all over the world clamored to get their hands on these machines. Olivetti could not keep up with the ridiculous demand, although they did manage to make about 10,000 of them per year.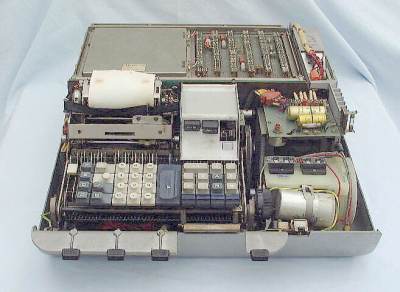 There are several videos below. The first is a demonstration of the Programma using two programs created by the presenter. The first program is fairly simple and calculates the Fibonacci sequence between two limits entered at runtime. The second is much more taxing. For any number entered, the program will return a 1 if the number is prime. If not, the Programma calculates and returns the smallest divisor.
Wish you could get your hands on one of these magnificent beasts? We can't help you with that, but here is a simulator. If you do find one, here's the manual (PDF). Oh, and you can make your own delay line memory with one of those 101-in-one circuit trainers.
How it works (hit CC for English subtitles):
Old promotional footage interspersed with discussion by the Programma's engineers (and Bruce Sterling!):
Firing up a Programma after 45 years:
Thanks for the tip, [Fabio]!
Retrotechtacular is a column featuring hacks, technology, and kitsch from ages of yore. Help keep it fresh by sending in your ideas for future installments.